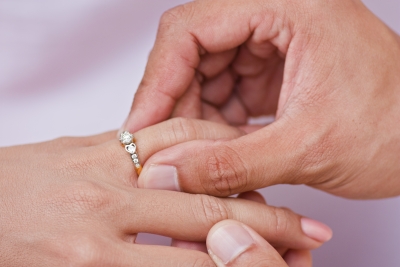 Part 1: click here.
Part 2: click here.
Part 3: click here.
Conclusion: click here.
It's time for another installment (and quite possibly the final one) of "How I (Almost) Ruined My Marriage Proposal"!
We were sitting at the greasy spoon diner that I love for breakfast on a Sunday morning. We were discussing our plans for both the Star Wars convention and also for our 5th anniversary. The discussion was happening because there were a whole bunch of people who were planning on going to the Star Wars convention.
I'll admit, I had to be reminded that our five year anniversary was going to be happening while we were at the convention, because I had said I wanted to go out to dinner to our favorite French bistro. My boyfriend gently reminded me that would not be possible, since we would be in Orlando.
Sitting there eating my scrambled eggs, I had a "flash": a picture of him and me standing doing one of the Star Wars "commitment" ceremonies at the convention, and him giving me a very real engagement ring. When my eyes cleared, I turned to him and said, "I can't wait until August for you to propose."
He looked at me dumbfounded. Not quite sure why, as this was the THIRD time I had done this to him. Whoops.
The last time I ruined things for him was a few months ago. After this incident, I asked him "Do I get a look on my face when I'm about to psychically ruin your plans?"
He replied, "Yes. Not full-on trance, spooky looking… but you do get a look, I can tell the wheels are turning in there."
The best thing I could do was say, "Pinky-swear, when you see that look on my face, tell me to shut up."
Since that agreement was struck, things have gone along swimmingly, but I'm fairly certain that he's going with Plan C… which means this coming week, we may have a conclusion to the story. I have been intuiting a few things (such as, has he bought the ring? when? what does it look like?), but have learned it is best to keep my mouth shut and see how this thing plays out.
Will he or won't he? You'll just have to find out when I return to the blogosphere on Tuesday, August 28th!
~*~Hilary~*~
www.tarotbyhilary.com
Image: Surachai / FreeDigitalPhotos.net
What do you think? Will he or won't he? Share in the comments section below!

If you found this article helpful, please share it with your friends using the handy-dandy buttons below.