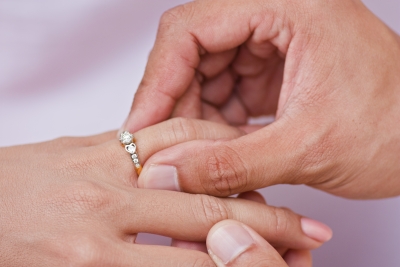 Part 1: click here.
Part 2: click here.
Part 3: click here.
Conclusion: click here.
I may be jumping the gun or tempting fate by posting this before I have the ring on my finger, but I couldn't wait to kick off a series of posts about how I may or may not have ruined my chances of a marriage proposal in the future. I love my boyfriend… I love him even more that he puts up with an abnormal girlfriend prone to listening to her gut and reading for other people! The fallout of doing so many readings is my psychism increases in other ways, with or without the cards. Therefore my boyfriend (the poor guy) can't get away with anything. It also is very hard for him to make any surprise plans for me. If I sense anything is amiss, my telepathy/psychism goes into overdrive to determine what's going on.
Without further ado, here's what happened:
Boyfriend (BF) and I were talking about the football pool he was in. It was one of these football pools where you make a guess about which team will win each game, and you couldn't choose the same team more than once. If you guessed and the team lost, you only got two passes. Two wrong guesses, and you are eliminated from the pool. There could only be one winner at the end of the season, and that person won all the buy-ins for the pool. If BF won the pool, he would win $3,000.
By around the middle of the football season, BF was still in the running and had not had any wrong guesses. It was no secret at that point that if he won the pool, he would be putting his winnings towards the purchase of an engagement ring.
As we were discussing the fact that he was still in the running, I quipped, "You better win; I want my ring." We both started laughing, and then I had a flash… a picture in my head of BF proposing to me at my favorite restaurant (and also the place where we had our first dinner date). It was so strong that I had to grab the railing next to me because I got dizzy and nearly fell. BF grabbed my shoulder and asked me if I was okay, and I said, "I'm fine, don't worry about it." He kept pressing me, because he knew I was not saying everything. We had discussed a long time ago that if I "saw" or "heard" things, including surprises from him and/or reading his mind, I was to keep it to myself. Mostly because it upset BF that he couldn't express himself in his own way when I continued to fish his thoughts out of his head. I agreed to this, so when he kept asking if I was okay and what I saw, I replied, "You don't want me to tell you, remember?"
He finally prodded me enough that I turned on him and said, "You're going to propose to me at [name of restaurant]." He looked dumbfounded, and then he started laughing.
"See? I told you you didn't want to know."
His response: "Damn it. Now I have to do something else."
This caused me to start yelling, "Nooooooooo!" (Because it's my favorite restaurant for both sentimental reasons AND I love the food.)
Results? Proposal Plan #1 destroyed. Kaput. Finito.
You would think I would learn from my mistake, but in the coming months, I have Parts 2, 3, and 4 to come of this series. Because, as so many of my friends have said, I can't just keep my mouth shut.
~*~Hilary~*~
www.tarotbyhilary.com
Image: Surachai / FreeDigitalPhotos.net
If you found this article helpful, please share it with your friends using the handy-dandy buttons below.