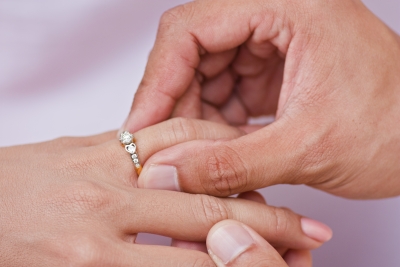 Part 1: click here.
Part 2: click here.
Part 3: click here.
Conclusion: click here.
It's time for another installment of "How I (Almost) Ruined My Marriage Proposal"! This time, picture the ground is cold and you're all bundled up in winter clothes. This story takes place before the Winter Holidays.
While we were sitting eating lunch one day, the boyfriend challenged me. He was making fun of me for ruining his first idea for the proposal by telling him what he was going to do (see Part 1). He was chuckling, and he said, "You know nothing about it now."
Honestly, that statement was to me more than a statement… it was a challenge. So I closed my eyes and lightly "tapped" his brain. I saw snowflakes and ice (none of which were actually on the ground at that point, since it was a very mild winter, all things considered). I took those symbols I saw behind my eyelids to mean Yule and said, "Oh yeah? Happy Holidays."
His response: "DAMNIT!"
Second attempt blown out of the water. Kaput.
Will I learn to keep my mouth shut for Part 3? Don't count on it…
~*~Hilary~*~
www.tarotbyhilary.com
Image: Surachai / FreeDigitalPhotos.net
I would love to hear a time that YOUR intuition got you into trouble… share your situation in the Comments section!
If you found this article helpful, please share it with your friends using the handy-dandy buttons below.