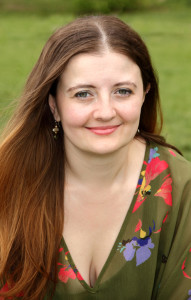 I'm Hilary Parry Haggerty, and I've been reading tarot since sixteen years old. I stumbled across tarot as a curious teenager, but in fact, I have always been interested in "paranormal" topics, such as ESP, telepathy, psychometry, etc. When I first came to tarot, my belief was that it was part of such "supernatural" studies. I've come to find that it is far more grounded and down-to-earth than my teenage self imagined it to be!
Am I a psychic? I guess so, in as much as I believe everyone has intuitive gifts and some people have a natural talent for such things, much like having a musical talent or being gifted in a sport. My goal is for people to understand that tarot is not some woo-woo thing that only certain people can do. If you want to, you can read tarot, too! You just have to be willing to flex those psychic muscles! I believe in interactivity, tough love, and a no-nonsense approach. I do tell it like it is.
As I said previously, I began reading tarot when I was sixteen. I read for myself, and then began reading for family and friends. I don't remember a time since starting where I haven't been using the cards. I started reading professionally in 2005 at Whimsies Incognito for select Third Fridays.
I'm ever growing and ever learning. I have taken what I like to call "Intuition 101" at the Open Center with Stacey Wolf, tarot classes such as "Burn the F@#$cking Book" and "Tarot for Lovers" with Courtney Weber, and was honored to be a reader at the launch party of Tarot of the Boroughs. I also attend tarot conferences such as The Tarot School's Readers Studio and the Bay Area Tarot Symposium (BATS), where I continue to build my tarot knowledge base with fellow readers.
In the interest of "ever-growing, ever-learning", I entered Theresa Reed's "The Tarot Apprentice" contest… and won! My year's apprenticeship with her lasted from May 2011 to late-April 2012.
I also love to write. I graduated with a BA in English with a Creative Writing emphasis from Binghamton University. This translates very well into my blogging about tarot, which can be found here (tarotbyhilary.com/blog/). I believe I read similarly to how I write: no-nonsense, practical, tough love, and sometimes expletives. I deliver messages clearly, am interactive, thoughtful, I confirm what's going on, and I communicate in a way you can understand. I give you firm and solid advice. I am simply the girl next door… that reads tarot.
Along with writing about tarot, I love to teach it as well! I began teaching my signature class Using Tarot for Spell-Work in 2012, and it continues to grow and evolve as I do as a reader and witch. I have taught at the LGBTQ Community Center in NYC in 2012, the Readers Studio in 2013, and the Brid's Closet Beltane Festival in 2015 and 2016.
I am based out of Westchester County, NY. If you would like an in-person reading with me, you need to be in the Westchester area, too. If you are not, I am also available through phone, Skype, and e-mail. Drop me an e-mail and we can make arrangements: tarrytowntarot@gmail.com and for further information about scheduling a reading, see my "Buy a Reading" page.
Questions? Comments? Send me an email by filling in the Contact form below.
Looking to get on my schedule? Please go to my Buy a Reading page, or go straight to my scheduling system here.