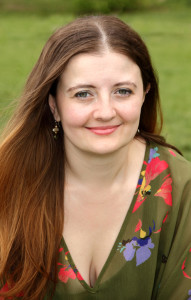 Hey there! I'm Hilary Parry Haggerty, and I'm a tarot reader, witch, writer, editor, and teacher. What do I teach? Tarot and witchcraft, and sometimes, I teach how to combine the two!
I started reading tarot at sixteen years old, after gifting my mum a tarot deck that was not-so-well received. I got that tarot deck back in the form of "Hilary, just read the cards FOR me" and a tarot reader was born.
I've been running my business for eleven years and I've served over hundreds of people to date (maybe thousands, math is not my strong suit!).
The best piece of praise I ever got from a client was: "You're one of the few people I trust to read Tarot for me because I know you'll give me an accurate reading even if it isn't what I want to hear." This kind of praise is common for my tarot readings: I don't sugarcoat and I don't pull punches… and those people that do expect the kinder, gentler side of tarot don't stay my clients for very long! 😉 Helping people to objectively see and course-correct their situation makes me so proud and drives everything I do!
If you're looking for a blunt-ass ram-headed Aries to read your cards (or teach you), I'd love to work with you, too!
Bragging Rights:
Winner of The Tarot Lady's "The Tarot Apprentice" contest, 2011
Where I've Taught (and What):
LGBTQ Community Center in NYC in 2012:

Using Tarot for Spell-Work

Readers Studio in 2013:

Using Tarot for Spell-Work

Brid's Closet Beltane Festival in 2015 and 2016:

Using Tarot for Spell-Work, Tarot and Talismans

Card a Day Challenge (FREE 5-day challenge, online), April 2017
As Seen In:
Maxim Magazine – Super Bowl Predictions, Jan/Feb 2014 Issue

For more, check out my PRESS page.
When I'm not writing, teaching, reading tarot, or editing, I can be found:
–watching or quoting Family Guy
–binge-watching Once Upon a Time, Game of Thrones, or Outlander
–meditating
–playing video games with my husband
If you're dying to know more, here are 3 things most people don't know about me…
–I'm permanently double-jointed in my left arm from breaking it when I was five.
–I have a star-shaped scar on my left pinkie. I have NO idea where it came from.
–Most people DO know about my High Priestess Tarot Card Tattoo on my left arm (it's the most prominent one, for sure). What they may NOT know: I have two others… that tattoo was the third one.
Enough about me…. Want to learn more about how we can work (and play) together?
Here's your next move:
Hop on my mailing list by subscribing here: FREE UPDATES
Want to learn tarot? My free 5-day challenge isn't running right now, but I teach a lot of tarot tips through my blog. Get reading!
Want a tarot reading? Get on my schedule here: http://tarotbyhilary.com/purchase-a-reading/ [or use the handy-dandy buttons below]
Thanks for reading my story!
Have fun perusing my website, and hit me up if you have any questions: hilary@tarotbyhilary.com. This is a one-woman show, so it's only my eyeballs on your emails: promise!
Blessings,
Hilary
Questions? Comments? Send me an e-mail by filling in the Contact form below.
Looking to get on my schedule? Please go to my Buy a Reading page, or go straight to my scheduling system here.