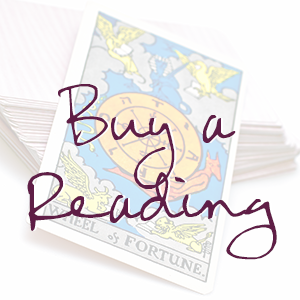 I am based out of Westchester County, NY. If you would like a reading with me and you are not in the Westchester County, NY area, please don't hesitate to send me an e-mail. We live in a world full of modern technology, and I'm sure we can work something out! If not, I may be able to recommend someone in your area, but you won't know if you don't ask!
For in-person readings, I do not have a home office. I prefer to "make housecalls" to my clients if they live in the area and are comfortable with it. If not, there are many wonderful coffee houses and restaurants that I'm willing to meet a client at. Please see my available appointment hours before contacting me for scheduling.
If you have questions about your reading, please ask them during the reading. This is important! Because I don't retain information about your reading, if you send me an e-mail after the reading asking a question about it, it will be nigh impossible for me to answer.
A few suggestions on how to get the best experience out of a reading with me:
Come prepared with questions or a specific situation in mind.
Have a notebook or recording device handy.
Come with an open mind.
There are some things you need to know about me before you book a reading, and those things are my ethics (what I will read for you vs. what I won't). Please check out my Ethics page before scheduling anything with me.
Lastly, I do not offer refunds for my services. Because of this, if you are uncertain I am the right reader for you, please book a lesser amount of time or an email reading. Please keep in mind that you are paying for my time and my expertise in reading the cards, and not guarantees.
***Please Note*** My 2015 rates are:
15 minutes: $45
30 minutes: $65
1 hour: $120
**I respect your time, so please respect mine: When needing to cancel or reschedule an appointment, please give 24 hours notice. If you are late to a scheduled appointment, you may be required to have a smaller time slot or reschedule for another time.** For more information about my cancellation and rescheduling policies, see my FAQs and Ethics page.
If you have never had a reading, and are not sure how much time you will need, let me help you with that; a standard reading usually takes about 30 minutes. So, if you are unsure, book 30 minutes. It's usually the right amount of time! Please note that I don't do "emergency" or same-day readings.
E-mail readings




You get to ask me one question via e-mail. Please allow 48 hours for a response to your question.

Rules: Keep your questions short, sweet, and specific. The main crux of it is I don't want to know a lot of details regarding the situation. I prefer just a few keywords to ask the cards as I shuffle when conducting your reading. The less I know, the better and more accurate your reading will be. Sometimes I will work with you when I feel a question needs to be rephrased. I will then do a three-card spread. Depending on what I'm sensing is needed while I shuffle I may choose to do a past-present-future spread or a spread with no positions defined. I also will attach an image of the spread.

After the e-mail reading: You are allowed to e-mail me one set of questions based upon this reading. No additional cards will be pulled; this is only to clarify the reading.

Phone readings:




For phone readings: Please send me an e-mail to schedule a phone reading. I will then send you a list of available dates and times, and we'll schedule your reading from there. Once you are booked, I will send you call-in instructions and information. Prepayment is required for all phone readings so that your time slot is reserved for you. Prepayment can be made at any time, however MUST be received no later than 24 hours prior to your scheduled appointment. ***Bookings are not final without prepayment.***

In-person readings:




For in-person readings: Please send me an e-mail to schedule a reading. I will then send you a list of available dates and times, and we'll schedule your reading from there. Prepayment is required for hour-long readings.

15 minutes: $45
30 minutes: $65
1 hour: $120 (prepayment is required for one-hour sessions)

Corporate Events/Private Parties:

Private Parties: Base rate is $150/hr, for a 2-hour minimum, 3-hour maximum (this rate includes travel expenses within Westchester County).

Corporate Events: Base rate is $200/hr, for a 2-hour minimum, 3-hour maximum (this rate includes travel expenses within Westchester County).

Contact me at tarrytowntarot@gmail.com or use the Contact Form on my About Me/Contact page to book your party.

NOTE: Please contact me to make arrangements/book your party or event before using the payment buttons below. Thanks!

Readings are for entertainment purposes only. Tarot should never be a substitute for legal, psychiatric, or medical help, so please consult a licensed professional in their applicable field.

Hours (by appointment only; please e-mail me for scheduling)*:

| | | | |
| --- | --- | --- | --- |
| Mon: | 7:30 pm | - | 10:00 pm |
| Tue: | Closed | | |
| Wed: | 7:30 pm | - | 10:00 pm |
| Thu: | 6:00 pm | - | 10:00 pm |
| Fri: | 6:00 pm | - | 10:00 pm |
| Sat – Sun: | 9:00 am | - | 6:00 pm |

*Updated 1/1/15*