Events to find me at…. the what, where, and when!
Past events have included PTA fundraisers, bachelorette parties, yoga studio open houses, classes on tarot and spell-work, and private parties. I would love to work with you! Please contact me at tarrytowntarot@gmail.com or leave a voicemail at 914-236-4452 to book me for your event!
SPRING 2015
APRIL
April 24 – 26, 2015 Attending The Tarot School's Readers Studio 2015
LaGuardia Marriott Hotel, New York: Find your tarot tribe! This is the one conference that is my "cannot miss" every year. Registration closes soon!
 MAY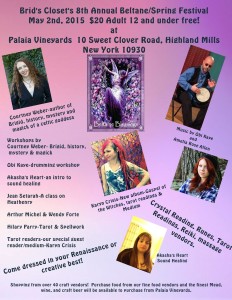 May 2, 2015: Brid's Closet 8th Annual Beltane Festival
Palaia Vineyards Winery
10 Sweet Clover Rd, Highland Mills, New York 10930
Using Tarot in Spell-Work
In this class, we will be learning to use tarot as both a divinatory tool prior to casting a spell and as a vehicle for spells. Should you cast that spell? Are you having difficulty deciding on the how, when, and why? How can you include tarot into your magickal practices? Don't touch your wand before you summon and stir… reach for your deck first!
A beginner knowledge of tarot is welcome but not required. Please bring your tarot deck to the class.
Friday, May 15th: private event