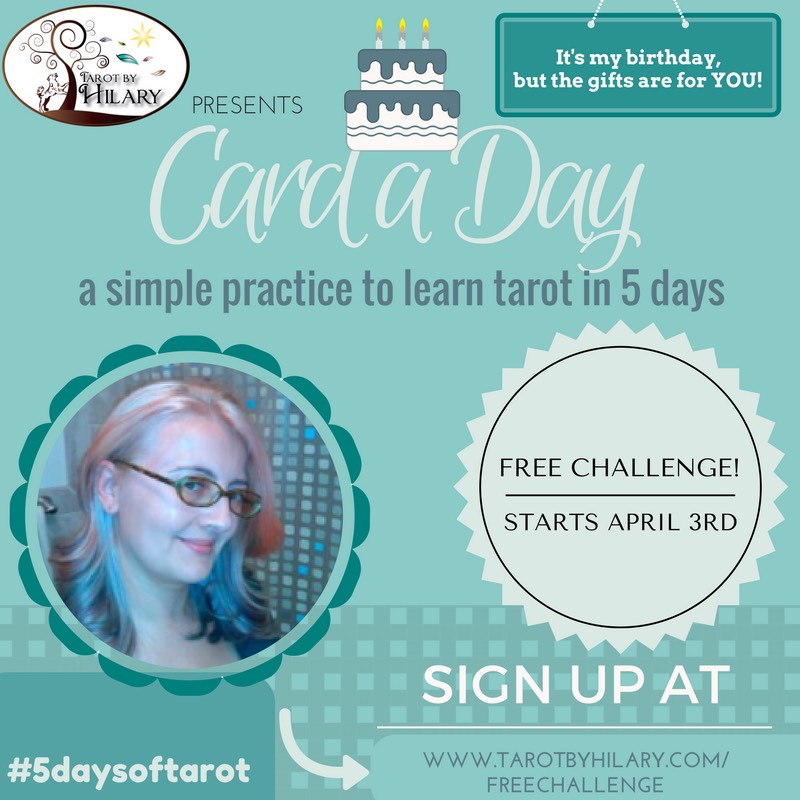 Struggling with learning tarot? You're not alone. The quickest way I have found to getting a basic grasp of card meanings and how they apply to our lives (and the lives of clients) is through a card of the day practice. And that's what we're going to do in this free five day challenge: establish a card of the day practice… Together.
Reading tarot for yourself doesn't have to be a long drawn out thing with 20 cards and intricate spreads that you have no hope of memorizing (yet!). Reading tarot can be as simple as pulling a single card for yourself in the morning and seeing how that card's energy can apply to your day.
And since it's my birthday, the best gift that I can get is knowing that more people are learning tarot than ever before… and that I can help them learn it!
Sign up for the Card a Day Challenge and you'll get five days of free tarot instruction, delivered straight to your inbox. Each day will focus on a specific aspect of reading the tarot: the Major and Minor Arcana, the Court Cards, and how symbols can play a role in the card's meaning. We'll also tackle the Little White Book (that sneaky little booklet that comes with every tarot deck): when to heed it, and when to throw it out the window!
Forget about those other systems, such as numerology, astrology, and corresponding elements or elemental dignities. For now, let's keep it simple: tell the story on the card. You can add on other systems to your tarot repertoire later!
You can do this. Don't put off learning the tarot because you're overwhelmed: one card pull daily is something you can do, right? I'm there to hold your hand for all the days of the challenge, answering your questions and providing information and guidance.
And with the price tag of zero dollars, yeah, you can afford this challenge! ☺️
The challenge begins on Monday, April 3rd. See you in your inbox!
This FREE challenge ran from April 3rd to the 7th and is now over. Sorry you missed it! Want to know when we'll do it again? Subscribe to my mailing list by clicking here.
Blessings,
~*~Hilary~*~