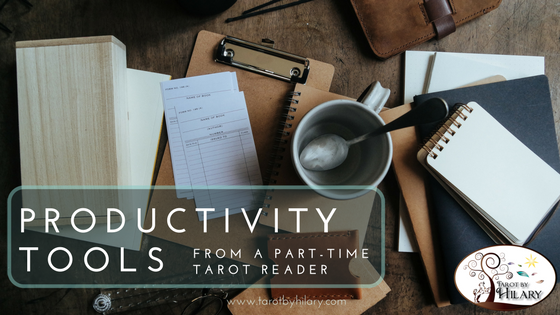 Yes, I have a full-time job (as a senior copy editor), and a part-time job reading tarot on weeknights and weekends.
Sometimes, people ask me how do I do it all? Sometimes the answer is, I don't! Sometimes the answer is I make time for what is important to me. And other times, I think about the myriad of tools I use to get it all accomplished: whether it's blogging, witching, editing, writing, teaching, creating new classes, and providing tarot readings one-on-one through client appointments and parties.
Here's a list of all of the tools I use to "get it all done". Note: I sure as shit don't have it all figured out… but who does? These are the things that make me feel like, okay, I may not have it all figured out, but I feel reasonably and relatively grounded in doing these things… and keeping these habits up.
Please also note that some of the following tools are for free, while others are pay-to-play. These are things I REALLY use and really pay for. Why? Because for me, they work. Your mileage may vary. I'll note which ones are free, and which ones I pay for.
Productivity
MyHours – suggested by Melissa Cassera in one of her wonderful newsletters/blog posts that begs the question "Are you really that busy?"
"Are you *really* that busy? Or does it just *feel* like you're really, really busy? Do you actually know where your time is going each day?"
And if you think you don't have time? Well, prove it by tracking your time using this site for a few days, and see where your time REALLY goes… And when you find it out? Start to make time for the things that really matter to you.… Continue Reading