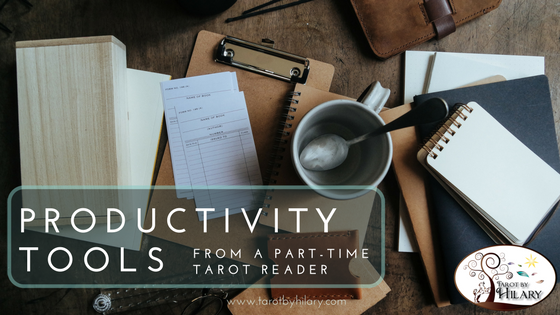 Yes, I have a full-time job (as a senior copy editor), and a part-time job reading tarot on weeknights and weekends.
Sometimes, people ask me how do I do it all? Sometimes the answer is, I don't! Sometimes the answer is I make time for what is important to me. And other times, I think about the myriad of tools I use to get it all accomplished: whether it's blogging, witching, editing, writing, teaching, creating new classes, and providing tarot readings one-on-one through client appointments and parties.
Here's a list of all of the tools I use to "get it all done". Note: I sure as shit don't have it all figured out… but who does? These are the things that make me feel like, okay, I may not have it all figured out, but I feel reasonably and relatively grounded in doing these things… and keeping these habits up.
Please also note that some of the following tools are for free, while others are pay-to-play. These are things I REALLY use and really pay for. Why? Because for me, they work. Your mileage may vary. I'll note which ones are free, and which ones I pay for.
Productivity
MyHours – suggested by Melissa Cassera in one of her wonderful newsletters/blog posts that begs the question "Are you really that busy?"
"Are you *really* that busy? Or does it just *feel* like you're really, really busy? Do you actually know where your time is going each day?"
And if you think you don't have time? Well, prove it by tracking your time using this site for a few days, and see where your time REALLY goes… And when you find it out? Start to make time for the things that really matter to you.
Have you heard of the pomodoro technique? It's when you do focused work for 25 minutes, then take a 5 minute break, then back into work for 25 minutes, then another 5 minute break, and so on. After a few rounds, take a longer break of at least an hour, before starting up again. The pomodoro technique isn't for everyone, but I've found it to be very useful when I've been stalling on projects, such as writing a blog post, creating a new opt-in freebie (like my e-book for newsletter subscribers Tarot Beginners), or creating a class. Sit thee down with a project you want to complete, and pound at it using pomodoros until you're done!
Tomato Timer: https://tomato-timer.com (free)
Some of the best Pomodoro apps: https://zapier.com/blog/best-pomodoro-apps/
Or you can buy a fancy timer, like I did, to keep track of your pomodoros OR your meditation practice OR client appointments: Pearl Salubrion Enso Clock Meditation Zen Timer
Motivation
For me, reading inspirational books and quotes seems to do the trick quite nicely for motivating me. The following are some books and websites I turn to when I'm looking for a little spark under my ass.
Do The Work by Steven Pressfield
The War of Art by Steven Pressfield
Big Magic by Elizabeth Gilbert
What to Do When It's Your Turn (And It's Always Your Turn) by Seth Godin
Planning/Scheduling
I'm slowly turning into a planner addict. Yes, I have an online scheduler, but sometimes, there's no substitute for pretty paper, covers, stickers, pens, glue, crafting, washi tape, highlighters, etc.
I have two this year, one to write down my entire schedule in, and one for the Astro information and planning coven and witchy life.
Desire Map Weekly Planner (astrology by Theresa Reed, so how could I not, right?)
Speaking of my online scheduler: No more email tag! No more phone tag! Blessed blessed relief! And it paid for itself when a client scheduled their hour long reading through it, so score! If you are running an appointment-based business, you NEED Acuity Scheduling. And bonus? You CAN sell product and gift certificates through it, too!
Acuity Scheduling: [affiliate link] paid service… but you can try it for free!
Writing
The biggest opponent to my writing practice is two-fold: the dreaded "I have nothing to write about" syndrome (which is more psychological than reality) and distractions. Fortunately the following tools will help with the distraction aspect of it once you have them open and are sitting down writing.
Ommwriter (one-time fee) – beautiful distraction-free writing environment… so good I purchased it twice: once to download in onto my laptop, and once onto my iPad.
750words.com (free trial, then about $5 a month thereafter) – spur your competitive nature and make sure you keep up your streak! Google Drive
Unstoppable by Alexandra Franzen (paid ten day course focusing on the top ten obstacles to writing) – take your excuses and figuratively kick 'me to the curb… Because each excuse is tackled every day… At the end of the course, there's literally no excuses left… But to write.
Blogging
Secret Bloggers Business (free resource, get on the email list to get your Blog Yeah downloads each month for blogging suggestions and worksheets)
The Blogcademy Online (paid)
Social Media
Bufferapp.com – (free version)
Images/Graphic Work
Canva.com (free version)
Music/Background Noise
Spotify.com (paid subscription about $5 a month) 
Headphones: Women's Knockout Headphones from Skullcandy (unfortunately, the floral ones I bought are no longer available in that pattern/color type)

Bose QuietComfort® 20 Acoustic Noise Cancelling® headphones — Apple devices (yes I know they are insanely expensive for headphones, but they WORK. The amount of a car payment for auditory peace of mind? Yeah, I'll make that trade.)
Coffitivity.com (app and website) – an auditory version of a bustling coffeehouse, morning dining, lunchtime rush, etc. – there's a free version and a paid version
Business/Business Courses
Please note that if you are not seeing an active link over the name of the course, it may not be running right now (different courses/signature offerings are only held once or a few times a year).
Conscious UnCopying by Helen Hunter Mackenzie – basically, a copywriting course that gets you out of your own way and lets you sound like YOU again.

THRILL by Carolyn Elliott – dissecting why something goes viral and writing for the web in the way that grabs attention and gets you BIG notice… pairs VERY well with her other course on mastering practical magic, INFLUENCE.

OBSESSED & CLICKSANITY – both by Melissa Cassera – please note that OBSESSED is already in session for its 2016 – 2017 year, but it opens up again for enrollment in NOVEMBER. Have you noticed I've upped my newsletter game? CLICKSANITY is the reason for that!
Marie Forleo's B-School – lifetime membership (paid) – one of the single largest investments I've ever made in my business, and worth every penny! B-School is currently in session for 2017, but that link will tell you all about it… opt-in to their email list to get a notification when enrollment opens again.

Marieforleo.com – Not ready to fork out the cash for B-School? I hear ya… it's a big commitment! But on Tuesdays – MarieTV – totally FREE business advice. Go get it!
I sincerely hope this list of productivity and business tools helped you today. Go forth and be a productive member of society, my friend!
Blessings,
~*~Hilary~*~
www.tarotbyhilary.com
hilary@tarotbyhilary.com
Comment below if you have additional productivity tools that you'd like to add. Let's discuss!
Click here to schedule an appointment with me: https://tarotbyhilary.acuityscheduling.com/
Header image created in Canva.
If you found this article helpful, please share it with your friends using the handy-dandy buttons below. 
© Hilary Parry Haggerty | Tarot by Hilary