Day 10 Challenge: I want you to think back to the journey you've been on in the last 10 days. I encourage you to read through all your posts to celebrate all that you've written, learned and experienced as part of this daily blog challenge. And in today's blog post, I want you to write about:
What you enjoyed most about your experience of taking part in the blog challenge
Your favorite challenge day and why
The biggest takeaway you've had from it
The next step you're going to take to make your freedom plan a reality
---
For all of the blog posts in the 10 Day Blog Challenge, and what I learned from them in summary:
Day 1: Blast you, Mercury in Retrograde! – you can have a shit day and still bounce back… because after all, those days will happen!
Day 2: Living the Freedom Lifestyle – when I let my little ego steer, it chooses wrong. Only my intuition and heart-centered decisions lead to the best results.
Day 3: Where I realize that some of the elements of my perfect day are already true… – what happens when you have a clear vision for yourself and what your day can look like? That perfect vision starts to become reality.
Day 4: Unlock your superpowers… you know you have them, right? – sometimes you don't know just how much you know until you are asked!
Day 5: The success plan: it starts with nipping procrastination in the bud – The venue may change, but the habits do not, and that is how consistency is built. It finally clicked in my mind that THIS is how people keep up with what is important to them. (you know, like the blogging thing)
Day 6: Tarot Tribes and Business Besties – the magic of a business bestie can apply to entrepreneurship or working for "the man"… we all need support: why not find people walking along the same proverbial road?
Day 7: Take done over "perfect", any day of the week – lots of aha moments found here, where I release perfectionism… an over-polished blog post once a month is no substitute for a good-enough blog once a week. The magic of the internet? Shine it up later! The world needs your words NOW.
Day 8: Mini-Adventures, and Rainbow Hair Really Trying NOT to Care – otherwise known as "What I Learned from Radically Changing My Hair"
Day 9: Tarot, on the go, anywhere! – What a working holiday would look like, if I were a full-time tarot reader… for now, vacation is vacation for me, through and through: though it would depend if I had clients local to the area I was vacationing in!
Day 10 (you're on it right now!)
Favorite challenge and why: Day 3…. Visualizing the perfect day, because it made me realize since the 30 day blog challenge that visualization of big goals really does work, and my perfect workday is moving closer to being achieved than I thought possible before I wrote about it.
Biggest takeaway: I CAN blog consistently, if I try. If I make it a habit, I can do anything consistently. I am also learning to embrace my imperfections, and releasing the blog (and newsletters) before I think they're ready (Day 5), because if I really released them when I thought they were ready, I would never release anything at all!
Next steps: Continue to blog once a week: and for real this time. No matter how undone I think a blog is, it will still go up… And I can tweak it whenever I want to. That's the beauty of a website, right? It can change whenever you do, and as much or as little as you want it to.
Thanks for sticking with me as I started (and completed!) this blog challenge. Following through is a big sticking point with me, so as I pat myself on the back for writing the final blog post, I will also congratulate you if you read it all! Yay, we did it!
Blessings,
~*~Hilary~*~
www.tarotbyhilary.com
This blog post is in response to Natalie's 10 Day Freedom Plan Blog Challenge Day 10.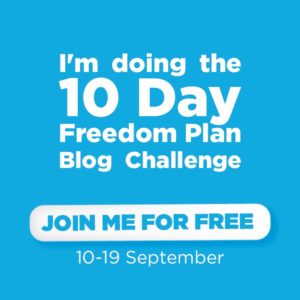 I'm doing the 10 Day Freedom Plan Blog Challenge from Natalie Sisson! Want to join me? It ends today!