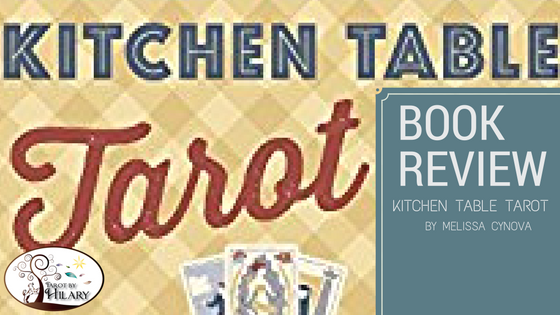 Book: Kitchen Table Tarot
Author: Melissa Cynova
Date of Publication: May 2017
Published by: Llewellyn Publications
Structure of the Book: 8 Chapters, with Introduction, Conclusion, Recommended Reading, and Acknowledgments Sections
I will try to keep my review of this book as unbiased as possible, but that may NOT be possible. Why? Because I absolutely adore Melissa and consider her a very close friend. From meeting at Theresa Reed's Soulful Proprietor Retreat 4 years ago to adventures in NYC meeting our personal hero Terry Iacuzzo this past April, I felt an instant kinship.
When her book Kitchen Table Tarot came out, I knew I wanted it BADLY. Once I got it into my hands, I knew all the hype I made out in my head was worth it: the book is plainspoken and absolutely the person I know within the pages. No nonsense, whipsmart, and down to earth.
The bulk of the book is tarot interpretations of each card: the Major Arcana, the Pips (Minor Arcana, grouped by number of card), and the Court Cards (grouped by type of card, Page, Knight, Queen, King). If you are a beginner to the tarot, this is probably where most of the time will be spent in this book. If you are experienced with the tarot however this section is wonderful for reference if you are getting stuck on traditional meanings of the tarot. When I was struggling with certain tarot cards following me around lately and why, I went right to the card in this section of the book and I found Melissa's interpretation revealed far more to me than another book of "rote" meanings of the tarot would.
For me, I mostly focused my attention on the other sections: full of anecdotes from Melissa's own experiences reading tarot. She's been reading tarot since 1989, so she's been around the block regarding tarot: using the tarot for herself and reading for other professionally. My favorite section of the book was the final chapter: When Readings Go Weird. I'm always fascinated by these kinds of stories, even after years of reading the tarot professionally. Why? Because I want to know I'm not the only one that has seen really interesting and wacky things in the cards! I'm greedy, so I wanted more stories like this in this section. It's the shortest chapter of the book, and I found myself disappointed that there weren't MORE stories of when readings go weird. In my experience, this happens far more frequently than I've seen other readers willing to talk about. It was refreshing to see this particular topic tackled when most professional readers don't acknowledge the inherent weirdness of the job of reading tarot.
Also of value: Chapter 7 Professional Tarot Reading. If you've ever considered doing this for money, I strongly encourage you read this chapter and learn from Melissa's admitted boundary mistakes, along with investing in Christine Jette's Professional Tarot: The Business of Reading, Consulting and Teaching (also published by Llewellyn).
While this book is a slim 271 pages compared next to other books on the tarot that are tome-like in length and depth (such as Holistic Tarot), do not mistake the short page count for lack of quality or depth. The phrase is that brevity is the soul of wit, and the lessons in Kitchen Table Tarot stick with you for long after your initial read is over.
Blessings,
~*~Hilary~*~
www.tarotbyhilary.com
hilary@tarotbyhilary.com
Click here to schedule an appointment with me: https://tarotbyhilary.acuityscheduling.com/
Header image created in Canva.
If you found this article helpful, please share it with your friends using the handy-dandy buttons below. 
© Hilary Parry Haggerty | Tarot by Hilary