All 3 days of the Readers Studio Conference in one large post!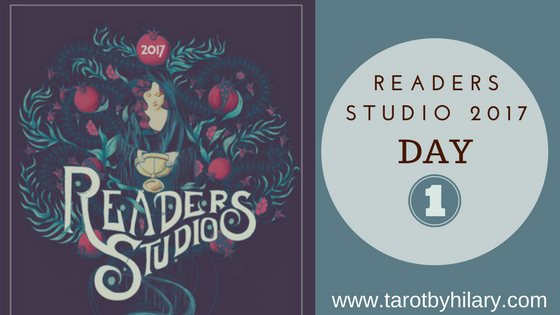 Otherwise known as Day 1 1/2: the half stands for the fact that I arrived at the hotel on the Thursday afternoon to make sure that I was there for Heatherleigh Navarre's Crystal Ball by Candlelight evening study group that I had been planning on attending for months. The reasoning? I have a crystal ball already that I will sometimes place on my reading table when doing party readings, but is more decoration than actual divination tool for me. I wanted to change that by attending Heatherleigh's class.
On Thursday the Tarot and Psychology conference was going on (one-day conference), so I drove to the hotel after finishing up beauty appointments (hair and eyebrows, respectively), checked in, put my stuff in my room, and came back down to the lobby area to scan and see who I knew that was already there. Lo and behold, the lovely Jaymi Elford immediately finds me and hands me my copy of her tarot deck, The Triple Goddess Tarot (if you want to check it out, it happens to be my deck of the month for May's card of the day pulls on social media). Squees and hugs ensued, but we quietly made our way out of the way to not disturb the tarot and psychology attendees that were still in the ballroom taking their classes.
During one of the breaks, I snuck into the ballroom to cruise the Merchant Faire tables that are situated around the perimeter of the room, taking special note of what was where and trying very hard not to start my shopping spree right then and there. Said my hellos, and went back out into the lobby area to hang out with other people arriving for the main conference the following day.
Some of us made our way to the bar area where dinner was being served, and I had an early dinner with people there for the main conference, and also attendees of the Tarot and Psychology conference who took advantage of the break time between the 2nd and 3rd session of their conference to eat before returning to the ballroom. I returned to the lobby area to kill time before the cocktail reception happening at 8pm, and the start of the evening study groups at 9pm.
Crystal Ball by Candlelight: Divination in the Depths
So, did you know that Crystal Ball Gazing is a lesson in patience? Believe me, patience is not my strong suit but I'm willing to give it a try! Heatherleigh gave us a little background on crystal gazing: how it's done and history of scrying and crystal balls, before allowing us to open the little white bags in front of us and take out the small crystal ball that each of us got to use during the class. Unfortunately, the "candlelight" portion of the class was lacking due to the strict fire codes of the hotel, but some people went the extra step and downloaded a candle app on their iPhones (isn't technology grand?). When we got into the practical portion of the class (actually looking into our crystal balls and writing down what we saw), I noticed a V shape, and where the two lines joined into a point there was a pinprick of light shining there, like a star. The crystal ball named itself (Star), and I ended up purchasing it at the end of class.
After class I went upstairs and had a drink at the hotel bar, before going back to my room and being asleep not long after midnight. Readers Studio was really starting in the morning, and I wanted to be fresh and ready!
Friday was the first official full day of the conference, and I headed downstairs to pick up my name tag and program… A name tag would have come in handy on Thursday, when a few people I was having long conversations with didn't realize who I was or make the connection since I was a bright blonde now and a brunette the last time they saw me at RS 2015. Name tag on, those same people were in shock, and I howled laughing and asked, "who did you think you were talking to yesterday?"

After receiving the Mystical Cats Tarot and my registration packet, complete with program and name tag, I went into the ballroom to find a seat and cruise the merchant tables some more. Fortunately, Theresa Reed had already saved me a seat and played Mystical Matchmaker to partner me for the foundation reading with Ryan Edward, creator of the Maybe Lenormand and The Playing Marseille.
We were introduced in interview-style format to the three master class instructors, and then sat down to do our Foundation Readings, the cornerstone of the Readers Studio: you swap readings with another attendee, keeping note of what cards came up and what the interpretations were. Then, on Sunday morning, you return to those same readings and cards, and apply everything that you learned over the weekend and see how your readings deepened. It's always fascinating to see just how much you learned!
Usually I'll provide what my cards were and the question I asked, but this year I'm keeping my foundation reading close to the vest… yes, even tarot readers have their own secrets to keep! 😉 After the foundation readings, it was time for the first-timer welcome ritual, in which we all welcomed first-time attendees to the conference. Then it was time for the lunch buffet and a break to give people the opportunity to check into the hotel if they hadn't already done so.
During the break I circulated around the ballroom, trying to get conversations in with people that I hadn't seen in at least 2 years, if not longer: and I locked onto Melissa Cynova, author of Kitchen Table Tarot (you'll remember that Kitchen Table Tarot was on my Readers Studio Shopping List). I mentioned in the shopping list post about how I met Melissa, and it was instant-friends from the moment I met her. I was so happy to see her, and even more excited that this was her FIRST Readers Studio! I asked her which evening study group she was thinking of attending, and she said she wasn't because she was going to have dinner with Terry Iacuzzo, author of the amazing Small Mediums at Large (if you haven't read it, you really should). I nearly dropped to the floor at the mention of her name, and just about sunk down into it when Melissa said, "Well, bitch, you can come if you want: Terry said to bring a friend." Gobsmacked, it took me nearly 2 hours of contemplation and wringing of hands to apologize to Carrie Paris for that I was going to have to miss out on her evening study group "Mediumship & Tarot: Divining the Unseen!" When you have an opportunity to meet a hero… just say YES!
After the "look who's coming to dinner" revelation, it was hard to concentrate! The conference resumed after break with the first Master Class, taught by Kooch and Victor Daniels.

Then it was time for the dinner break, before the final round of evening study group classes began at 9pm. But like I said… I was off to do something quite unexpected and serendipitous! To prevent me making a fool of myself on public record, I'll simply refer you to here and here. Dinner was awesome, and fast friendships were made over good food (I will never say no to sushi) and psychic shop talk. There may or may not have been tarot cards on the dinner table. 😉
Melissa and I returned to the hotel, and I stayed up far too late savoring everything said and seen, and drinking several glasses of pinot noir with the tarot tribe in the hotel bar. Yes, we closed the hotel bar, and took the party into the lobby before finally succumbing to our bodies' need for sleep. I think I hit the hay at 2:30am!
---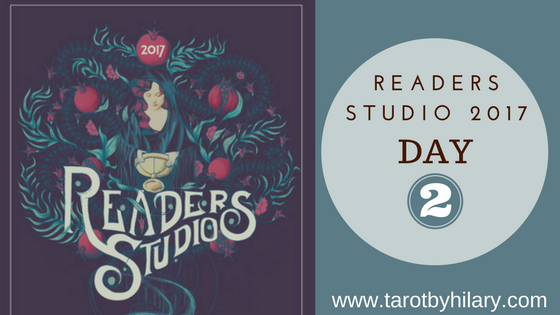 After everything that happened on Friday night, I wanted to have a late start in the morning, but I couldn't: Saturday is traditionally the busiest, most jam-packed day of the conference: 2 master classes and the banquet and rave. So, running on less sleep then I should have and nursing a mild hangover…. (Don't drink and read tarot, kids!)…I dragged myself downstairs to the ballroom in time for the Master Class with Mitchell Osborn. I was SO glad I did—Mitchell's class was my favorite of the whole weekend! Mitchell's class was on connecting to the real, imagined, or metaphorical world of tarot through an altered state for guidance, transformation, and healing. Several exercises he provided were setting an intention for your day, event or reading; the conscious reading; the altered state reading; and finally, the transformation reading. When Ryan and I returned to the foundations readings we gave each other on Sunday morning, it was the tools used in Mitchell's class we kept coming back to again and again.
On Saturday there is a longer lunch break, so a bunch of us took a walk over to the beloved Buccaneer Diner, 2nd home of the Readers Studio besides the LaGuardia Marriott. We were the "bad kids" table there, but the waitress remembered us from Readers Studios of years past! Imagine being at a lunch table with Angelo Nasios, Courtney Weber, V. of RedLight Readings, Gina Jean, Theresa Reed, Brianna Saussy, and Andrew McGregor. With that cast of characters, you know you're going to have a good time!
After lunch, we walked back to the hotel, or in my case, I felt like I rolled back! Then it was time for the final Master Class with Ferol Humphrey, full of pattern interrupts, rounds of "blurt" tarot, and a few bouts of frustration designed to snap us out of our usual way of being/thinking: especially while reading tarot.
After Ferol's class, it was time for the evening break before the Banquet, entertainment, and "rave" dance party. I went back up to the hotel room to get ready, happy to have a hot shower that actually drained (fun with my plumbing at home…). Courtney and I returned to the ballroom refreshed and ready for FUN! I was not disappointed, with good food and company, and amazing entertainment from a line up that included master of ceremonies Michael Bridge-Dixon, V., Jaymi Elford, Judith Zweiman, Naomi Rabinowitz, Michael Newton-Brown, Mitchell Osborn, and Elinor Greenberg.
After, it was time to go to the "rave", full of dancing and good tunes. Hey, if dancing is not your thing, no biggie: no one was forcing participation! But sometimes, when the song is just right, and it's the weekend before Beltane, you put on your boogie shoes and get down! [Apologies: someone took incriminating photos, but I don't know who!]
I was going until a little after midnight, but my feet were getting sore and I didn't want to miss the breakfast roundtable (or a free meal) in the morning. So, to snoozeland I went!
---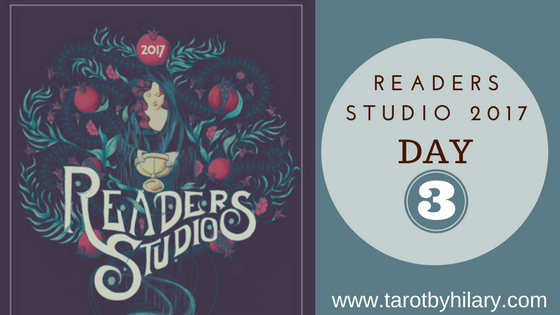 Sunday dawned, and I woke up sad because I knew it was the last day of the conference, and I thought about the Garbage song "It's all over but the crying". I headed down to the ballroom to grab breakfast and a much-needed cup of coffee and took a seat to attend George Koury's breakfast roundtable: Angry Villagers. Difficult Clients. Difficult Questions. What could have easily turned into a bitch-fest was a lively discussion, full of wisdom, wit, and practical advice for dealing with the strange and specific difficulties of being a metaphysical professional. And a funny aside: George and I share a mutual friend, Jake Samoyedny!
After the breakfast roundtable, it was time to partner back up with our foundation reading partner and apply everything we learned over the weekend. Ryan and I chose to use a lot of the things we learned from Mitchell's class. What we found especially interesting and helpful was the mere practice of turning the cards facedown except for the ONE card you are looking at, and then turning it over and moving on to the next card. Then at the end you can look at the cards faceup as a whole and see the patterns overall. Genius, no?
After the Foundation Readings were revisited, it was time for the Tarot Incubators: different topics of study in a roundtable format, facilitated by a host who is an expert in that topic. Out of the nine topics, I went to V.'s on "All-Day Divining": a roundtable that promised to show how to use the tarot in every step of your day-to-day life. It really did exactly that, with actionable ideas from everyone at the table.
Sadly, it was time for hotel checkout and grabbing some lunch. Courtney and I threw our bags into my car, and we returned inside to have lunch and attend coloring with Theresa and her Tarot Coloring Book [interview with Theresa here]. It was a soothing and fun way to wind down from all the high energy of the conference, and we returned to the ballroom for the final prize drawing and certificate ceremony, where I won a copy of the Bonefire Tarot (and I was a complete sore winner about it!), and I received my certificate for another year of Advanced Tarot Training from the Tarot School. Yay!
---
I have so many decks and books to amuse me and review! I will do a separate post on all the swag and purchases soon-ish: Honestly, I'm afraid to know just how many decks I got! 😉 Stay tuned, and way to go for reading this whole thing!
Blessings,
~*~Hilary~*~
www.tarotbyhilary.com
hilary@tarotbyhilary.com
Click here to schedule an appointment with me: https://tarotbyhilary.acuityscheduling.com/
Header images created in Canva. Readers Studio poster by Ryan Edward.
If you found this article helpful, please share it with your friends using the handy-dandy buttons below.
© Hilary Parry Haggerty | Tarot by Hilary