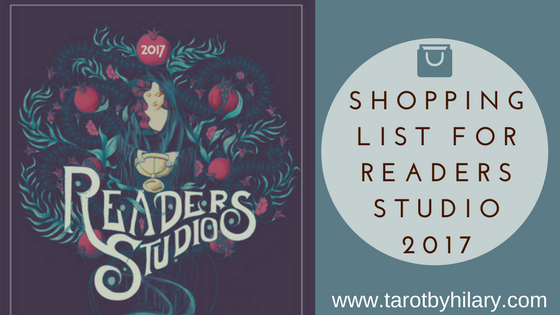 The last time I attended a tarot conference was in 2015: Readers Studio. Last year, I took a year off from tarot conferences in order to save up for big life events, like my wedding (my husband and I paid for most of it ourselves) and our honeymoon (a year delayed, so it was more like our first anniversary/honeymoon).
But this year? I make my triumphant return to Readers Studio next week, and I have some shopping to do!
Books:
Kitchen Table Tarot

by Melissa Cynova: I met Melissa of Little Fox Tarot at Theresa Reed's awesome Soulful Proprietor Retreat in 2014. After exchanging tarot readings, giggles, and swapping insults of "yer face", "yer mom's face" [very professional, I know] within only a weekend of meeting each other… well, I know that her book is going to be absolute treasure full of the straight-shooting tarot advice I have come to expect from her. Enter her world at

http://littlefoxtarot.com

.
Tarot for One: The Art of Reading for Yourself

by Courtney Weber: Ok, ok, I already have this one… but I have to get it signed. I mean, it's what you do when you share a hotel room with the author! This is a MUST read for people: and my work is featured in Chapter 7—Other Tools: What's Missing from Your Tarot Reading? about what the absence of cards/suits mean in a reading! (so now you really have to pick this one up!)
Decks:
Other:
Spirit Communication Casting Kit by Carrie Paris – debuting at Readers Studio!
So yes, I have my shopping list, but I still am leaving room for the unexpected and surprising, like what happened to me in RS 2015 when I found the Fountain Tarot out of nowhere and proceeded to stalk their booth mercilessly hoping for a deck: More about my tarot stalking and review of the Fountain Tarot here: http://tarotbyhilary.com/deck-review-the-fountain-tarot/. 
Readers Studio has been one of the best tarot conferences I've ever been to, and the reason I keep coming back year after year (last year being the exception to the rule). For a compilation of all of my writing about Readers Studio, click here. If you're attending Readers Studio this year, please come find me and introduce yourself: I'd love to meet you!
Is there anything you'd like me to look out for? A book that you want me to read and review? A deck that you want me to test drive? Let me know by commenting below!
Blessings,
~*~Hilary~*~
www.tarotbyhilary.com
hilary@tarotbyhilary.com
Click here to schedule an appointment with me: https://tarotbyhilary.acuityscheduling.com/
Header image created in Canva. Readers Studio poster by Ryan Edward.
If you found this article helpful, please share it with your friends using the handy-dandy buttons below. 
© Hilary Parry Haggerty | Tarot by Hilary