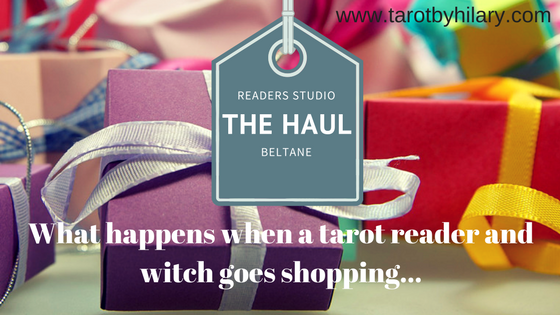 For me, the end of April/beginning of May heralds the start of "festival season" here in the Northern Hemisphere: the weather is warmer, the flowers are blooming, the grass is green and lush…
And for two back-to-back weekends, I become SUPER PAGAN, super tarot-y, super witchy.
Yearly tradition dictates tarot conference one weekend, and the Beltane festival the very next weekend. It feels like a whirlwind, and my shopping addiction runs full-throttle.
Most of the time, this works to my clients' advantage: hellooooo, brand new tarot decks (to read with and review), brand new books (to read and review), and new techniques learned and raring to implement.
Some of the time, though? It's an excuse to buy lots of shit. Good shit…. pretty shit… but do I really need a Pan crown? Yet another necklace (or two, or five)?
Bottom line: I have lots of stuff that I love, but sometimes, less is really more… if you have one tarot deck, well, one is a great starting point for your tarot practice. One necklace that makes you feel like an absolute goddess? Maybe one is all you need.
But I digress… here's the haul from Readers Studio 2017 and the Brid's Closet Beltane Festival!