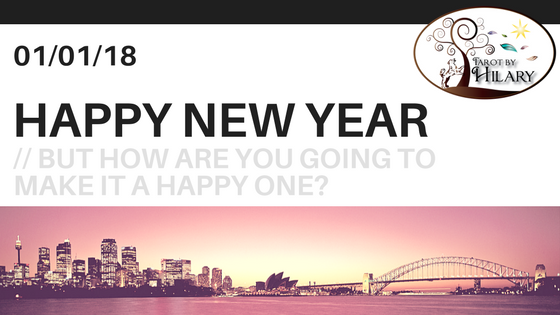 Is it happy new year? It's hard for me to say that after everything that's been going on in my life in the past two weeks. I spoke about this a little bit in my monthly newsletter (don't get it? you should sign up!) about feeling the weird limbo in taking bereavement leave after the sudden and unexpected passing of my father plus that already weird limbo thing that happens in the space between Christmas and New Years. It's double limbo, and it's thrown me for a loop.
Thank you for allowing me the space to grieve, heal, and feel the complicated feelings that go along with loss.
It is the first of the year, so thank you for allowing me the space I needed to come back to myself and my readings stronger than before. All reading options are now available. Thank you for your support and your patience.
To book with me, click here:
Schedule Appointment
Now that we've gotten logistical stuff sorted out, onto the real "meat" of the blog and reason for me writing this today.
Happy (?)

New Year!

I don't have a problem with the "new year" part of the above: it's a fact…. another calendar year is over, and we face the promise of a new calendar year looming ahead, with all the joys and sorrows that come along with it, just glimmering in the future past the point where we can't see but we know it's there.

It's the "happy" part that's got me stumbling. Because every time you say that phrase to someone, it's a wish for them to actually HAVE what you are saying to them: you are wishing/willing them to have a happy new year. It is a hope, a fervent prayer, that they will indeed have the happiest of New Years.

But how are WE going to make it so, with the ardent urgency that everyone else wishes it for us? I have a few ideas.
Set a goal to try new things, and maybe skip the whole resolutions thing altogether: Back when I was actually posting my New Years resolutions, I realized how very quickly the shine wore off of them… some of them a mere 12 days into the new year. It's not the resolutions weren't good ones: but I think the very concept of setting New Years Resolutions causes us to fail before we've even begun with the whole framing of it. Instead, why not make a resolution to NOT make resolutions… and try something new instead? An activity you've been always meaning to learn or take a class but have never gotten around to it… there's no time like the present.
Create keywords for the new year: How do I come up with these keywords, you may ask? I think of the year ahead and wait for words to come to me. I also ask the cards. You can also use tarot cards or oracle cards to do this exercise as well. Unsure on how to do this? My tarot bestie Theresa Reed did a wonderful Facebook live class about setting intentions for the New Year using tarot.
Check it out:

3. Look at the year ahead with the help of a tarot reader: I have just added a personalized yearly overview to my shop. Here's what one of my beta testers had to say about it:
"You were totally right about my Justice reversed and having to deal with those issues. I'm still waiting to see how the year forecast manifests. You do not pull punches. Even when I don't like the answer, you don't try to sugar coat things. The 13 moons reading [year forecast] gives me things to keep in mind and pay attention to. This is of the good. You're accurate, concise, and you explain things well without going over people's heads. You are always honing skills, trying new spreads, and expanding your repertoire. The one thing people most need to know about getting a reading from you: If you want platitudes and bullshit – go somewhere else! You're one of the few people I trust to read Tarot for me because I know you'll give me an accurate reading even if it isn't what I want to hear."—Sarah B.

Still not convinced? Here's a sample of what a yearly forecast looks like. Or you can just book one of my many readings options available and we can get to your specific questions within your session.
4. Do a spell to release the last year's energy and bring in good new energy for 2018: But which spell to cast? My suggestion: there's still time to do the one Sasha Graham generously provided when I interviewed her about her book 365 Tarot Spells. There's also some pretty fantastic suggestions in this article: New years rituals: Ways to welcome good fortune in 2018.
---
I truly hope these different ways of making your new year a happy and productive serve you. And I say this fervent wish to you:
HAPPY NEW YEAR!
Blessings,
~*~Hilary~*~
www.tarotbyhilary.com
hilary@tarotbyhilary.com
Click here to schedule an appointment with me: https://tarotbyhilary.acuityscheduling.com/
Images created in Canva.
If you found this article helpful, please share it with your friends using the handy-dandy buttons below. 
© Hilary Parry Haggerty | Tarot by Hilary