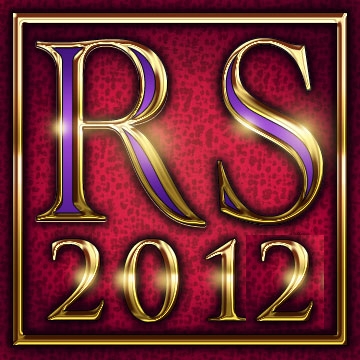 Readers Studio started a little differently for me this year. Last year, my friend Courtney and I were up far too early on the Friday morning to watch the Royal Wedding before heading to the conference, leading us to consume massive amounts of coffee once we arrived in order to stay awake. This year, I drove myself down to the conference from my home about 45 minutes away. I still needed the massive amounts of caffeine, however (some things never change).
When I arrived, I checked in at the conference with the lovely Tarot Diva Sasha Graham and got my goodie bag containing Barbara Moore's Tarot for Beginners and the Fairy Tarot.
Upon arrival at the conference, Steampunk Tarot was already sold out… and no, I did not arrive late. Readers Studio offers a pre-conference class, and the people that were already there for it got first dibs on the merch tables. I believed that my great idea of having Steampunk Tarot be my deck of the month for May got shot in the face right away.
Sad about me not being able to possess Steampunk Tarot, I walked right over to Ciro Marchetti's table and bought the very limited copy of the Gilded Tarot Royale, since they only had 6 copies of that left, and I didn't want to be foiled a second time on a different deck. Oh, and I bought a few other things, such as a bag and a reading cloth… Don't judge me.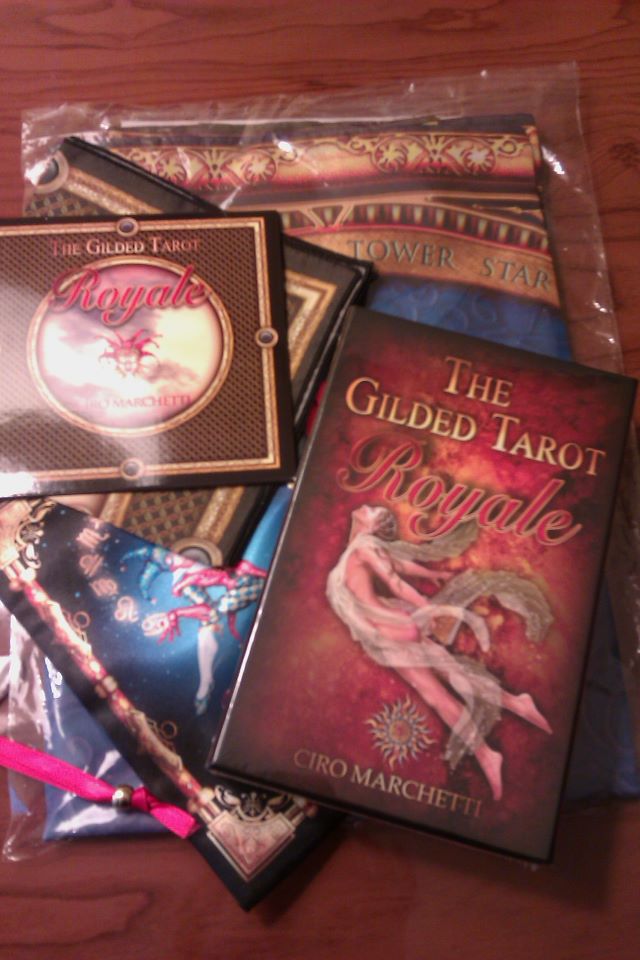 Yes, so I made a major purchase before the conference even began… and as soon as my tarot mentor, Theresa Reed, saw this, she dubbed me "the Keith Richards of tarot", because I wear my tarot addiction proudly and out in the open. Honestly, I was a little surprised that she didn't know this about me by now, since she worked with me for a year!
So, Readers Studio kicked off with the Opening Session of meeting the Master Class instructors, welcoming all first-timers to the conference, and the opening ritual.
Then we got down to the nitty-gritty and partnered up to do Foundation Readings. The Foundation Reading is done at the start of Readers Studio. You partner with someone and exchange readings the best way you know how at the time. Whatever spread you want; whatever you deem appropriate. You take notes on everything: what cards come out where, and everything that's said. Why? Because you come back to the same person at the END of Readers Studio and revisit the Foundation Reading, applying all of the information you absorbed over the course of the weekend. For this Readers Studio I partnered up with Beth Palladino, who gave me a wonderful reading, and I hope she received likewise.
Then it was lunchtime and a break for people to check into their rooms. I filled up my belly with grub and grabbed my bags from the car to check in to my room and chill out.
Next was the master class with James Wells. His class was on the Sharing Process and the Stages of Grieving, and the ways that tarot can help with these processes. It was intense. Honestly, I was glad that this class was first, because it took me most of the weekend to absorb and be grateful. I also was able to partner up with Ellen Lorenzi-Prince, which was really cool considering I had taken her class at BATS in August, "Discover Your Tarot Genius".
By the time class had ended, it was around 6pm, and I had a few hours to kill before my night class. A lot of it was spent in the main ballroom area and the lobby, chatting with people and waiting for my roomie for the weekend, Courtney Weber, to arrive. Once she did, we hightailed it over to the hotel's restaurant to eat some grub and have a glass of merlot before she ran off to teach her class for the evening "A Tarot Deck Journey: How to Start—and Finish—Your Own Tarot Deck" and before I ran off to attend Jude Alexander's session "Tarot Game Night: A Divine Play Session". I had sworn to Jude after BATS that I would return to play her amazing game "for real" this time. The evening class with her afforded me just such an opportunity.
The game…. in a word: empowering. When was the last time you played a board game and came away with the feeling of genuine empowerment? Yeah, probably a limited amount, I would guess. Aside from gaining a lot more insight into the questions I asked, I also won a tiara!
After class, I regrouped at the bar and commiserated with other attendees, sharing what I learned. But alas, it was getting late, and I needed a good night's rest if I intended on attending the breakfast roundtable in the morning.
Day 2/Part 2 coming soon!
Blessings,
~*~Hilary~*~
www.tarotbyhilary.com