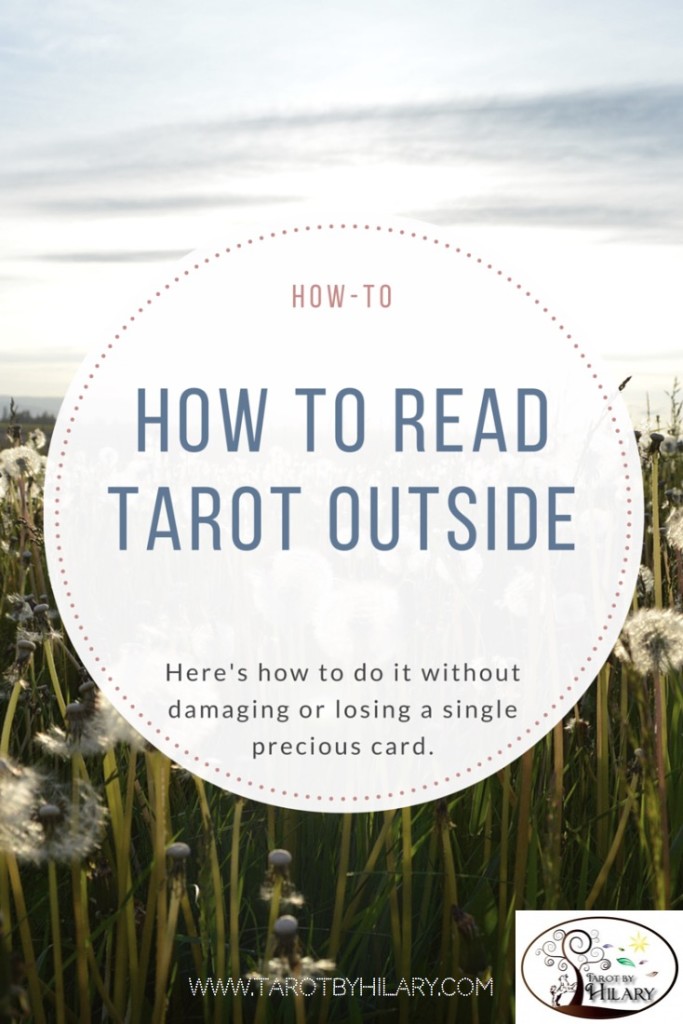 I've read tarot outside in a cemetery. I've read tarot outside on a busy street corner during third Friday or for street fairs. I've read tarot outside of a public library when they realized we were using their "conference room" as a free meeting place for doing tarot sessions. I've read tarot in a public park, sitting on a park bench.
Each time I've had to contend with the blowing wind and with denizens of nature such as mosquitoes and ants. It was not an uncommon thing for me to be deep into a reading with someone and then yell "Oh SHIT!" as the wind picked up and the cards went a'flying.
But things like that shouldn't stop you from taking your tarot cards outside! Here's how to do it without damaging or losing a single precious card.
Weight them down so they're not flying around. There's several ways to do this:
Purchase glass pebbles from a craft or pet store, such as these: Ashland Decorative Fillers. They may be called by a different name, such as Decorative Fillers, Clear Gems, Vase Fillers and the like. It adds a mystical sparkle to your tarot spread, AND is a practical paperweight!
Add another form of divination on top, along with weighing the cards down, by adding runes. Read this site to choose a set that's right for you: The Rune Site. There are many different types of rune sets available, made from carved wood or crystals. Remember that trees and crystals each have their own specific magical and mundane properties, so take care when selecting a set. I personally have a set of carnelian runes since I resonate with that stone, but select whatever is right for you. Rune sets can be purchased from new age shops, and are even more available now in bookstores such as Barnes and Noble or through amazon.com. There is a beautiful selection of runes available here: 13 Moons Rune Sets. Try weighing each tarot card down with a single rune to each tarot card, and see how the runes deepen the reading!
Your nearest educational supply store may be an excellent place to find what you need for reading tarot outdoors. Look for a Standard Pocket Chart, and slip those tarot cards right in the slots, and those suckers won't be flying anywhere! Look for something like this: School Outfitters Pocket Chart. Teachers get a discount, and some educational supply stores won't let you purchase from them if you're not a teacher… so make some teacher friends and tag along with them when they go on a supply run.
Get crafty and make a weighted-down reading cloth with a sturdy ribbon to fasten across your cards. When I used to do readings at Tarrytown's Third Friday in front of Whimsies, my friend and I hastily fashioned a ribbon band to affix across the cards once they were lain down. Did it work all the time? Somewhat. If we had more time, I'm sure we could have made something snazzier and more permanent. But just because I didn't doesn't mean that you can't!
At a loss for physical objects other than your tarot deck, and you're already outside? Play your tarot cards like a hand of poker: kept them folded and fanned in your hands like you would playing cards. You can do this for self-reading, or have your client hold them like this while you sit beside them and read card-by-card while you enjoy the beautiful weather!
Go outside; enjoy the summer weather… and don't forget to take your tarot deck with you!
Blessings,
~*~Hilary~*~
www.tarotbyhilary.com
Image design courtesy of Canva.
P.S.—How do you bring your divination out into the elements? Know any additional tips or tricks not listed here? Please share them in the Comment section below!
If you found this article helpful, please share it with your friends using the handy-dandy buttons below.