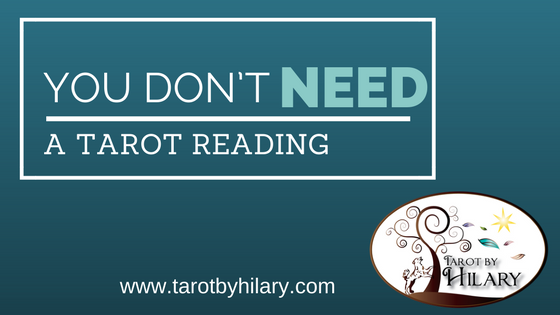 You don't need a tarot reading.
A tarot reading is a want and not a need.
What tarot reader in their right mind would tell you this? Because I want you to take responsibility for your actions and inactions. A tarot reading should be an empowering act, but it can't be when you choose to ask someone else to decide for you what you should do. Sadly, there have been quite a few times where a client have asked me to do exactly that!
All we as tarot readers can do for you is show you your options, based on the patterns that are currently going on now. We throw cards, we show, we illuminate. And then YOU, and only you my dear, can choose what to do.
Recently, a regular client of mine told me that a reading with me is a catalyzing experience. She has a reading with me, and things start to shift… as a result, the cards start to shift as well. Each reading, we move away from how she started, and how far she has come in her journey.
While it is flattering to be thought of as the instigator for her growth, I cannot take credit. The work was on her to do, and she did it: she and only she is responsible for her results… and I have no problem in giving all the credit to her.
Put it this way: I can assign you the homework, but it's up to YOU to do it.
Blessings,
~*~Hilary~*~
www.tarotbyhilary.com
hilary@tarotbyhilary.com
Click here to schedule an appointment with me: https://tarotbyhilary.acuityscheduling.com/
Header image created in Canva.
If you found this article helpful, please share it with your friends using the handy-dandy buttons below. 
© Hilary Parry Haggerty | Tarot by Hilary