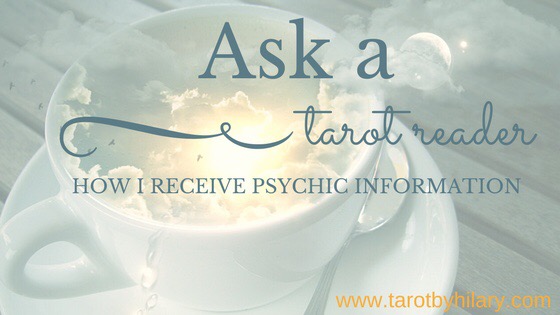 This is another post in the "Ask a Tarot Reader" series. If you have a question for me that you'd like to see featured here, please email me at tarrytowntarot@gmail.com, Subject line: "Ask a Tarot Reader". Please specify how you would like your name to appear or if you wish to remain anonymous.
Before we get into the video edition of today's Ask a Tarot Reader, I have a PSA:
I am unable to answer all the phone calls, voicemails, and texts I receive, especially ones starting with or ending with any kind of "let me pick your brain" sentiments. Let the Ask a Tarot Reader series be my way of answering these kinds of questions in a public forum, rather than expecting individual responses back. Think of it this way: I'm still answering your questions, but publicly… as many of the Ask a Tarot Reader questions have been asked of me frequently!
In that spirit, here's the newest Ask a Tarot Reader question:
Hilary, I am fascinated by what you do. How do you receive psychic information? How do you "know what you know"?
The answer in 2 parts:
Part 1
In the Part 1 video, I talk about a full list of "the clairs". A list called "Meet the Clairs" is here: Meet the Clairs. Check out the list, and c'mon back for Part 2! Please note in the Part 2 video that I use the terms clairsentience and claircognizance pretty interchangeably. I can only claim a "brain fart" moment for it! Clairsentience is clear feeling. Claircognizance is clear knowing.
Part 2
So my clairs are:
Clairaudience: clear hearing
Clairvoyance: clear seeing
Claircognizance: clear knowing [yup, again, ignore the video… I said clairsentience—I MEANT claircognizance!]
Clairvoyance/clairaudience are my two main Clairs when I'm reading tarot… the pretty pictures of the tarot seem to "jump out" and "talk" at me! Claircognizance, aka "I just KNOW" happens to me far more in my personal and day-to-day life, but there are some readings that a bolt from the blue claircognizance message have happened.
So the question is: what are YOUR clairs?​​​​​
​Blessings,
~*~Hilary~*~
www.tarotbyhilary.com
hilary@tarotbyhilary.com
Click here to schedule an appointment with me: https://tarotbyhilary.acuityscheduling.com/
Header image created in Canva.
If you found this article helpful, please share it with your friends using the handy-dandy buttons below. 
© Hilary Parry Haggerty | Tarot by Hilary