This is an article in a series in blog posts…. the "The Major Arcana In-Depth" series! Every few weeks I will be featuring one card of the Major Arcana, from the Fool to the World. Come take a tarot journey with me!
—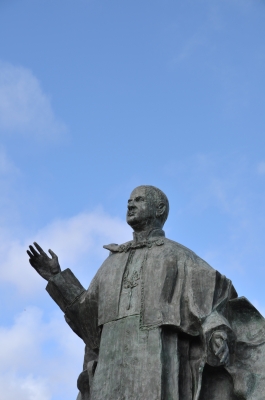 To learn about the Major Arcana overall and the first card in the Major Arcana, The Fool, go here.
To learn about the Magician, go here.
To learn about the High Priestess, go here.
To learn about the Empress, go here.
To learn about the Emperor, go here.
The Wise Hierophant
Confession time: I've always had a problem with the Hierophant card. Maybe it's because I think of the Hierophant as representative of dogmatic religion or tradition: religious beliefs for the sake of religious beliefs without understanding of the reasoning BEHIND those traditions. I'm not a big fan of doing something by rote.
From Dec 16, 2011, I wrote about the Hierophant: There's a reason why you do the things you do. You educate people and help people because underneath everything, you genuinely care about them. Even if you seem like a curmudgeon on the outside sometimes. You are seen as a spiritual go-to person today. Just accept it and go with it. You may not have all the answers (no one does!) but that doesn't make you less of a person or a guide.
From Dec 28, 2011, I was a bit more glib: The Hierophant: You feel that seeing your spiritual path for yourself is more important than being shown it by someone else. It's your soul; you get to make the decisions.
The Hierophant can be tricky in determining its meaning as different from that of the Hermit card, because both figures are so dependent on the wisdom gained through study and books. However, the Hierophant is much more of a spiritual teacher or guru, while the Hermit is a being of solitude. Both can teach, but they are different lessons.
This card can also shine light on spiritual teachers and mentors. Who have you propped up on the pedestal of your altar? Should you have? Recognize that teachers, even spiritual teachers, are human too. Examine their humanity. Examine yours. Even great spiritual lessons can from people and situations that are not technically ascribed as "holy".
Traditional depiction in RWS: pope figure seated between two pillars, arms raised in a benediction symbol, 2 monk figures on either side, faced toward Hierophant, 2 keys criss-crossed at Hierophant's feet. Crosses on buttons of robe, points of shoes.
Keywords: the pope, religious ruler, spiritual wisdom, religious authority
Applicable Quotes:
Rufus: He said humanity took a good idea and, like always, built a belief structure on it.

Bethany: Having beliefs isn't good?

Rufus: I think it's better to have ideas. You can change an idea. Changing a belief is trickier…

Serendipity: When are you people going to learn? It's not about who's right or wrong. No denomination's nailed it yet, because they're all too self-righteous to realize that it doesn't matter what you have faith in, just that you have faith. Your hearts are in the right place, but your brains gotta to wake up.—Dogma
Personal Meanings
What I think of when I see the Hierophant: This depends on the client, the reading, and the other cards in the reading. But overall, I tell the client that now is a time of trusting in your faith and your own spiritual practices as a source of strength.
When The Hierophant Shows Up in a Reading
Upright: have faith, look to your touchstones, seek out a spiritual advisor for a second opinion
Reversed: question the religious dogma. why do you believe what you believe?
---
Ultimately, if/when you read for yourself, please keep the things I listed above in mind… and if you disagree, PLEASE use your own meanings for this card. Your thoughts on each individual card are invaluable, and lead you to a multi-layered understanding of the tarot that no one individual book/Little White Book/teacher can give you. Your experience with the cards counts, too!
Tarot class dismissed!
~*~Hilary~*~
www.tarotbyhilary.com
Image courtesy of artur84 at FreeDigitalPhotos.net
How do you relate to The Hierophant? Share your experiences in the Comments section below.
If you found this article helpful, please share it with your friends using the handy-dandy buttons below.