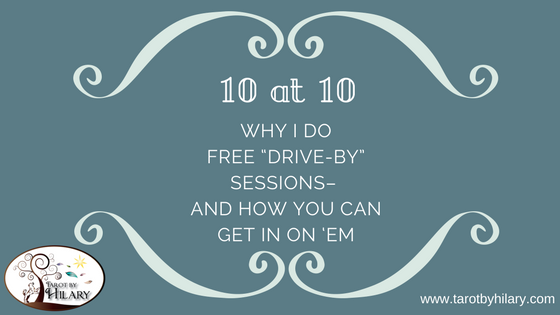 The evolution of my "drive-by" tarot sessions are well documented online. I believe my friends and fellow readers Theresa Reed and Courtney Weber used to do them in some way, shape, or form (the question of who did what first doesn't matter, as we seem to have all asked each other who started it… which remains a mystery. My bet? The original OG Tarot Thug Theresa originated them. See here for her post on Drive By Tarot Readings).
Either way, out of the three of us I'm the only one still doing them. Why? Because people suck sometimes, and are greedy, and often get very pushy about something that is offered for free… in short, people wore out their welcome, and ruined it for the other people that were genuinely respectful of that reader's time and contributions even offering up a free taste of how they work in the first place.
And then there's me: who, when realizing I was burning myself out giving up too much or bending over backwards for people that really didn't deserve it, shooting the people in the foot that ARE good clients and good people… I made a change and set boundaries so that I would NEVER again feel resentful of this aspect of my generosity.
If you so desire, you can look through my Facebook page and see the evolution of the drive by session. It's there… you may have quite a time finding all of them, but it's there!
First I called them drive-by sessions (inspired by Theresa Reed's style of tarot and her penchant for rap music). They then evolved into "10 at 10" and have stayed there, because it said everything that I needed to say about the sessions, and within the name also stated the boundaries that I put up to protect both my energy and to make sure that everyone participating in the session was respectful of not only my time, but everyone else's.
10 for 10pm, when I usually found time to do the session.
10 readings OR readings for an hour: whichever came first.
Below is the latest #10at10 session that I did on October 10th. I realized that using the Facebook live feature was waaaaay easier to do this type of work: Typing up my interpretations and having to take individual pictures of each card took up a lot of time which would be better served just talking directly into the camera and holding up the tarot card while explaining it.
We also had a really fantastic first question in the session: "What do I really need to know right now?" It was such a good question that I paused before answering it to let people know that if you are coming into a tarot reading session and don't know what to ask the tarot… this question is a great place to start! For other good questions and for framing questions for the tarot, please see this article here: Empower Your Readings! How to frame questions for the tarot (with example questions you can take with you to your next appointment!)
The deck I used for this session is the Tarot of the Boroughs by Courtney Weber and George Courtney. For a review of this deck, click here. For more information and to purchase this deck, click here.
Tuesday nights at 10pm EST are usually the best night for me… what about you? Send me an email or comment below with your thoughts.
Blessings,
~*~Hilary~*~
www.tarotbyhilary.com
hilary@tarotbyhilary.com
Click here to schedule an appointment with me: https://tarotbyhilary.acuityscheduling.com/
Images created in Canva.
If you found this article helpful, please share it with your friends using the handy-dandy buttons below. 
© Hilary Parry Haggerty | Tarot by Hilary