All 3 days of the Readers Studio Conference in one large post!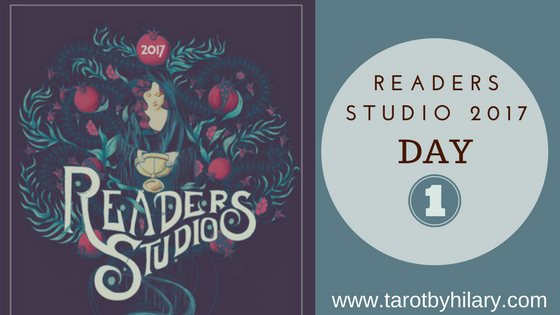 Otherwise known as Day 1 1/2: the half stands for the fact that I arrived at the hotel on the Thursday afternoon to make sure that I was there for Heatherleigh Navarre's Crystal Ball by Candlelight evening study group that I had been planning on attending for months. The reasoning? I have a crystal ball already that I will sometimes place on my reading table when doing party readings, but is more decoration than actual divination tool for me. I wanted to change that by attending Heatherleigh's class.
On Thursday the Tarot and Psychology conference was going on (one-day conference), so I drove to the hotel after finishing up beauty appointments (hair and eyebrows, respectively), checked in, put my stuff in my room, and came back down to the lobby area to scan and see who I knew that was already there. Lo and behold, the lovely Jaymi Elford immediately finds me and hands me my copy of her tarot deck, The Triple Goddess Tarot (if you want to check it out, it happens to be my deck of the month for May's card of the day pulls on social media). Squees and hugs ensued, but we quietly made our way out of the way to not disturb the tarot and psychology attendees that were still in the ballroom taking their classes.
During one of the breaks, I snuck into the ballroom to cruise the Merchant Faire tables that are situated around the perimeter of the room, taking special note of what was where and trying very hard not to start my shopping spree right then and there. Said my hellos, and went back out into the lobby area to hang out with other people arriving for the main conference the following day.
Some of us made our way to the bar area where dinner was being served, and I had an early dinner with people there for the main conference, and also attendees of the Tarot and Psychology conference who took advantage of the break time between the 2nd and 3rd session of their conference to eat before returning to the ballroom. I returned to the lobby area to kill time before the cocktail reception happening at 8pm, and the start of the evening study groups at 9pm.
Crystal Ball by Candlelight: Divination in the Depths