This interview is a part of the "7 Questions" series. I will be posing 7 questions to people within the tarot community; whether they are bloggers, authors, deck creators, or fellow readers (or sometimes, all of the above!).
---
Adoration and fawnage abound when I talk about the magnificent Sasha Graham. I first met Sasha at Readers Studio 2011, and while most attendees of RS have that whole "otherworldly" vibe about them (hey, we're all tarot readers, after all!), I felt something different off of Sasha: a true sense of groundedness amidst all the psychic wavelengths. Each passing year when I attend RS, I am greeted by Sasha's "MY WITCHES ARE HERE!" (I look forward to that more than you know, Sasha!)
In 2013, when I presented Using Tarot for Spell-Work at the evening classes at RS, Sasha was my TA which I took as a high honor. From her book, Tarot Diva, I knew that Sasha knew what she was talking about when it came to both tarot and magic, as well as integrating the two. In 365 Tarot Spreads, she only further solidified my understanding that she was authentically true as both a tarot reader and a magical person, and deeply respectful of both worlds (while still remaining bubbly and fun).
Today's interview is the clincher: this lady knows her shit. I cannot WAIT for 365 Tarot Spells to be published, nor for Sasha to hit the stage as a Master Class presenter at Readers Studio 2016.
---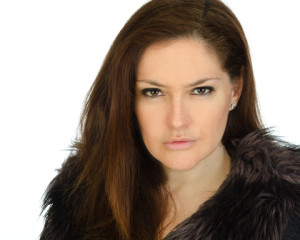 Sasha Graham and her tarot books, Tarot Diva, 365 Tarot Spreads and Tarot Fundamentals, have been featured in documentaries and media outlets such as Sirius XM Radio, The Wall Street Journal, The Daily News and featured in the cover of Crain's New York Business. Sasha appeared regularly as a guest on the WPIX Channel 11 Morning News, reading tarot on pop culture topics and celebrities.
Sasha can be found at www.sashagraham.com.
1) You are the editor of Tarot Fundamentals, and the author of Tarot Diva and 365 Tarot Spreads. What inspired you to write those books? What inspired you to write your newest book, 365 Tarot Spells?