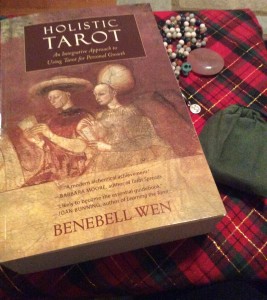 Book: Holistic Tarot
Author: Benebell Wen
Date of Publication: January 2015
Published by: North Atlantic Books
Structure of the Book: 33 Chapters, with 9 Appendices (A–I), Endnotes, Index, Acknowledgments, and About the Author sections.
PLEASE NOTE: A review copy of this book was provided by the publisher.
I don't call coincidences "coincidences" anymore… there's really no such thing. The biggest example of this was in the email "introduction" my tarot mentor Theresa Reed made in introducing me to Benebell Wen, and vice-versa. In doing so, we soon discovered that we knew each other before, and even went to the same college and attended the same class!
We simply couldn't get over that simple connection. It was "meant to be" that we reconnected over writing, since we knew each other through a writing class! More synchronicities ensued when I started reading her book Holistic Tarot, including the synchronicity of our first tarot deck (both the Tarot Nova!).… Continue Reading