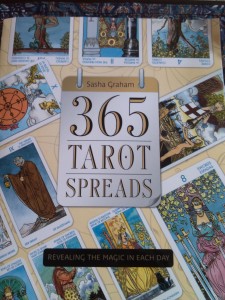 Book: 365 Tarot Spreads
Author: Sasha Graham
Date of Publication: May 2014
Published by: Trade Paperback, Llewellyn Worldwide
There's a lot of reasons why Sasha Graham is one of my tarot girl crushes. Every year when I show up at Readers Studio, she's usually the one screaming, "My witches are here!!!" followed by a big hug. When I taught my class "Using Tarot for Spell-Work" at RS13, she was my TA, and her first book Tarot Diva was on my Recommended Reading list for my class. She's a fun, bubbly, effervescent soul who is also completely down to earth and approachable… a hard combination to pull off with authenticity (but she succeeds!).
Tarot Diva (her first book, published in 2011) was a fun romp through the land of (what else?) being a tarot diva, full of great information and geared toward those that may not be familiar with tarot… in my opinion, it was a intermediate/advanced book about tarot, archetypes, magick, spirituality, and integration, disguised as a beginner book for the masses!
In her second book, 365 Tarot Spreads, she takes all of her sparkling personality and interweaves it into a day-by-day (yes, all 365 of them, based on the calendar year) spread odyssey. … Continue Reading