I am very excited to announce the first in a new series in blog posts…. the "7 Questions" series! I will be posing 7 questions to people within the tarot community; whether they are bloggers, authors, deck creators, or fellow readers (or sometimes, all of the above!). Let's kick this baby off right!
—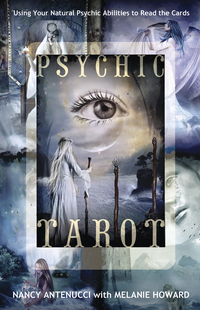 My first interview is with the coauthor of Psychic Tarot, Nancy Antenucci. Now, I'll admit, I was intrigued by the prospect of reading her book, but also taken aback by the title. The title itself is a bold assertion. Honestly, I wasn't even sure I wanted to read it. Then at SF BATS, I saw Nancy and her mini-troupe perform a vignette about what a psychic tarot reading looks like. It was enjoyable, with Nancy cast as the little psychic voice that the reader listened to and relayed to the querent. Nancy held up signs, and there was one sign about moss that struck me: If I'm remembering correctly, it was "the smell of moss". This little tidbit of information made me scratch that itch to buy Psychic Tarot immediately after the performance. Clearly, this is a woman who gets it.
I devoured Psychic Tarot. There is simply no other way to put it. Its slender spine is deceiving… this book is chock full of information and exercises! But without further delay, here is a bit of information about Nancy and her interview.
Nancy Antenucci (Between The Worlds LLC) is a seasoned tarot reader as well as a teacher of intuitive and creative strategies. Her book "Psychic Tarot – Using Your Natural Abilities to Read the Cards"  is a compilation of 25 years of hard-earned wisdom, practical know-how and unending passion of the creative unknown to her clients, students and colleagues. The Twin Cities Metro Magazine named her one of the Twin Cities' best psychics.
She leads the "Twin Cities Tarot Collective" which acts as a monthly meetup that explores the combination of tarot and natural psychic abilities as well as hosts the annual Star of the North tarot conference every February. She also is the creator of Pagan Babies Productions, which brings mythological and archetypal stories to life theatrically. She is also the co-director of Theater and Ritual of the Reader's Studio held every Spring in New York.
Nancy's website is www.betweenworlds.us. Her email is nucc50@gmail.com.
1) You mention in the beginning of your book about how you were surprised that most tarot readers didn't consider themselves to be psychic. What is it about the P word that makes both sides of the reading table on edge?
First I would like to address the sitter at the table. For the most part, the common trait in most of my sitters is the need and desire to change something. They are open to having a dialogue with mystery, the Creative Unknown, their destiny if you will.  Magic and mystery actually take the edge off of their hopelessness or limitations.  Their real life is what has them on edge…not our pretend talk with invisible giants that somehow will bring a ton of new creative perspectives and vibrant energy. Recently I have been telling clients to start pretending that they have psychic powers, almost everything I accomplished in this life has been due to thinking that it is possible (pretending).
When you ask why a reader would be resistant to claiming, calling or using psychic skills, my first reaction is still disbelief. At my very first Readers Studio during a breakfast roundtable, Rachel Pollack asked if we thought we were psychic. We went around the table and everyone denied it but also wished for it. I was dumbfounded. I thought it just came with the territory. If you are using magical symbols, delving into magical scenes, and sensing a world besides our own…how could you NOT call that psychic? Johanna  Garguilo-Sherman picked up on my shock. She asked me what my last name was. After I told her "Antenucci", she smiled and said " psychic – Italian – same thing".  That was truly a turning point for me. I needed to be true to my path.
Now years later I have a few ideas why nowadays psychic is often referred to as the "p" word (which by the way that term always brings something else to mind). There is an internal pressure to be respected, right, and rationale. I understand the need to raise our profession above the fray of swindlers and snake oil doctors to gain the respect and money we deserve. The price however may be the loss of magic and mystery. It's a fine line, we  need to let the world know the powerful tool of Tarot but we can't sell our soul in the exchange.
There is absolutely nothing wrong in reading only the cards with little or no divine connection. There is a problem however when one refuses to acknowledge when that energy is present or cleans it up so that you "appear" a certain way. Let Love have her way with you!
2) What is your take on the Little White Book (LWB)? Helpful or hindrance?
My entire path as a psychic reader started with the absence of the LWB with my first tarot deck. Some guy in an assembly line birthed a powerful seer the day they goofed up. It never dawned on me that each had a specific definition. I just took it into my own hands and asked each card what they were all about. This was a time before internet when you only had about 2 – 3 decks to choose from and even less literature if you lived in a small town.
For years I have told students to put these little buggers out of sight until they have gotten to know the deck first. My goal as a teacher is to surface my student's creative authority. They need to know what they actually see, feel, and sense before relying on another's filter. Again, I go back to the human need to be right, rationale and respectable. We want to know that we are doing it right. The only flaw in that desire is that Tarot is a view of the world in its entirety, not just ways that makes you feel good or comfortable. If that is the experience you desire, put the deck down. Reading is a form of layering our consciousness onto the cards. I strongly feel that the first layer should be your own organic reality. The next layer can be the LWB. The third layer might be traditional studies that go well beyond the LWB.
3) How do you receive psychic information?
I usually get movies or stories. Sometimes there is merely a still image like a sepia photograph. I hear, smell, sense, hear and feel stuff all the time during a reading.  I've always had an inclination towards invisible beings. Tarot gave me the environment to actually converse with them. I developed my psychic skills with imagination and creativity despite the traditional viewpoint of deep study of Chakras and the Clairs ( Clairsentience, Clairadience, Clairvoyance, Clairalience).  In my experience, all the Clairs have usually restricted or limited more folks than liberated them.
4) Talk to me about the idea of the spiritual committee… and how did you originally meet yours?
At one point it seemed like everyone had one guide and knew their name. I was curious about mine. Deep in meditation I asked if I could meet The One. The answer given was "What costume do you want me to wear? Love is the one source. We can take on any role that will help you understand that you came from Love and will return to it." Bingo, the Divine Committee was born.
I decided that on my team I would like Jesus, Bridgid, a white stag, a few rabbits and Krishna. This committee varies according to the experiences of life. For the sitters and students in my life, I often sense that their Divine committee includes loved ones that parted, ancestors and past life selves.
We are spirits having a human adventure. As soon as you incarnate, you are given two gifts, gravity and death. Most of us forget the whole spirit thing with these two "gifts".  The committee is a structure representing the one source that keeps you engaged, vital and remembering that you are the one playing the role of human.
5) What is your favorite tarot deck?
I cannot pick one deck over the others. My most cherished deck however will be the Rider Waite deck given to me when I was 10 years old. Its colors and texture are beautiful and old. I use it in rare magic ceremonies  such as burying the ashes of my beloved Siamese cat Kiki with the Queen of Wands.
6) When and how did you realize you needed or wanted a co-author (Melanie Howard) for this book?
A few years ago Lisa Finander spoke to me after attending a tarot workshop that I presented at a nearby Spiritual conference. She was extremely enthusiastic and encouraging about my work being put into book form for others. I tried to write a manual outlining the 20 years of my teachings. It was grueling and hard because the process is opposite of my work. I like gathering huge ideas and concepts and condensing them into a few sentences. I find a creative challenge in doing so. Writing felt like the exact opposite…expanding ideas. It felt weird.
When Barbara Moore asked if I would be interested in writing a Psychic Tarot book, my immediate response was NO! She offered a ghost writer as a solution. I realized that the student that I had been teaching once a week for nearly a year was a writer – thus Melanie became the co-writer.
The journey itself could be quite confusing as we tried to figure out our relationship to each other and to the writing itself. In hindsight, I wished I was far more clear in my intent to have my student become the scribe.  I regret the pain that I caused Melanie in my not having crystal clear intent of our teacher-student relationship. I've got to say though that we are both so proud of the tone of the book. It has the teacher-student voice threading throughout the whole book. It would have been that much sweeter if blood wasn't shed for it. She and I are doing well but it was in a fragile state shortly before the book was published.
7) What is your favorite or most utilized exercise in your book?
The Essence Spread is my favorite exercise. It is an organic structure that allows for one to explore the different families of Tarot in their own time and rhythm. I love introducing new students to the four elemental tools with visualization.
My hope is to produce a workbook that will not only act as a companion for this book but with additional exercises and visualizations as well. I started my own Meetup – The Twin Cities Tarot Collective Meetup on Yahoo so that I could experiment different exercises to include in the book.
——-
Thank you to Nancy for taking the time to answer my questions, and if you don't have Psychic Tarot… what the hell are you waiting for? After all, it was my pick for best tarot book of 2011!
Blessings,
~*~Hilary~*~
www.tarotbyhilary.com
If you found this article helpful, please share it with your friends using the handy-dandy buttons below.