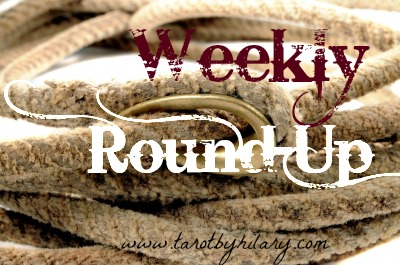 On select Fridays, I'll be posting a few links that are currently rocking my world. Today's link love edition on a Monday comes to you courtesy of the solar eclipse!
---
I wrote about When Hollywood Gets Psychic Abilities Right last week. Clearly, I love movies… it's one of my favorite activities! I watched the movie Passengers last month when it was on one of the movie channels, and have a love/hate relationship with it. It inspired my new haircut and color (thanks JLaw!), but I also realize it's a pretty terrible movie with a lot of grievous sins and potholes you could drive that proverbial truck through. CinemaSins agrees with me. Watch their video Everything Wrong with Passengers in 16 Minutes or Less. [The score is pretty beautiful though….]
Melissa Cassera is a doll and added 4 BONUS LESSONS to her Clicksanity course! Right now, it's just $97 to enroll in Clicksanity, but the price jumps to $249 on August 25th… get in there at the reduced rate. It would be foolish not to! [If there was an affiliate link for Clicksanity, I would be jockin' it… this course really helped breathe new life into my newsletters!]
This batch of links courtesy of the wonderful and wordy Alexandra Franzen:
God, it's just so easy to be a hater instead of a creator. (didja like that rhyme?) But just because it's easy to slip into that negative nelly side of yourself, doesn't mean that you should do it. 
As Dumbledore says, "We must choose between doing what is right and what is easy." Most of the time, it's harder to do what is right… but in the long run, it's worth it.
"The Goddess isn't just here for the liberation of white women.

She's here for the liberation of us all."—Layla Saad
I need to talk to spiritual white women about white supremacy (Part One)
Let's make this go viral, not for virality's sake, but because no matter the size of your platform, if you are a white woman spiritual entrepreneur (like me!), you should read this.
And speaking of that… here is the
link from my newsletter
this week… my stumbling attempt to speak out as a white woman with white privilege.
More links for you to peruse:
Recap for the latest Game of Thrones episode from The Verge… holy moly. Can you believe this season is over next week?
The end of an era: I'm closing down my "monthly" column Through a Tarot Lens for Witches and Pagans. Catch up on all my articles there before they go the way of the do-do and are archived!
---
What's floating your boat this week? Leave a Comment below and share!
Blessings,
~*~Hilary~*~
www.tarotbyhilary.com
Original image courtesy of Gualberto107 / FreeDigitalPhotos.net
If you found this article helpful, please share it with your friends using the handy-dandy buttons below.