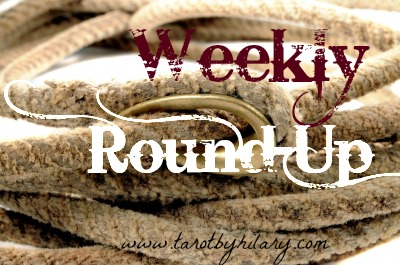 On select Fridays, I'll be posting a few links that are currently rocking my world.
---
How to REPAIR any relationship in just a few minutes! from Jamie The Psychic:
https://www.youtube.com/watch?v=981jPtVsEA4 You won't believe how quickly you will see results from this!
Week 2 of the Fired Up and Focused Challenge is ending, but there's still time to sign up and participate! (And get the book!): http://www.firedupandfocused.com/
For some reason, I ended up mainlining the entire season of Garfunkel & Oates, and ended up in tears over this song from the final episode. Garfunkel & Oates "Such a Loser" Often, the strongest and most long-lasting lessons stem from our failures and not our successes. So, good for you, Loser!
What to Expect at a Wiccan Wedding (featuring a certain someone's recent nuptials) from Courtney Weber
Marie Forleo's How to Be Consistent: This directly relates to this week's blog post about excuses and consistency… so listen up! It also includes two other related links on Follow-Through Habits for Serial Quitters and Here's Why You Never Follow Through (and How to Fix It).
---
What's floating your boat this week? Leave a Comment below and share!
Blessings,
~*~Hilary~*~
www.tarotbyhilary.com
Original image courtesy of Gualberto107 / FreeDigitalPhotos.net
If you found this article helpful, please share it with your friends using the handy-dandy buttons below.