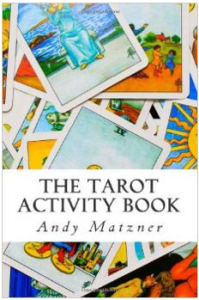 Book: The Tarot Activity Book
Author: Andy Matzner
Date of Publication: March 2013
Published by: CreateSpace Independent Publishing Platform
PLEASE NOTE: A review copy of this book was provided by the publisher.

"A book should serve as the axe for the frozen sea within us."—Franz Kafka

"At the center of your being you have the answer; you know who you are and you know what you want."—Lao Tzu
So starts Andy Matzner's The Tarot Activity Book… a book that endeavors to crack open a person's layers to get to the heart of themselves to the answers they seek… this book is the proverbial "axe" that Franz Kafka spoke of in the above quote.
I have found that many tarot readers shy away from the fortune-telling aspects of divination and tend toward a more counseling approach… already facilatating a reading in much the same way a psychotherapist would counsel using Rorshach tests or allowing a patient to journal or artistically express their emotions.
Sometimes I will approach a reading in much the same way, not only reading a card but prompting my client to do similarly: "What do you see in this card? How does this card make you feel? What do you think is happening in this card? Tell a story about this card. How does this card to relate to your situation?" This deepens the reading and strengthens the bonds of trust and safety between reader and those being read.
This book can only help tarot readers that read in this way in that regard!… Continue Reading