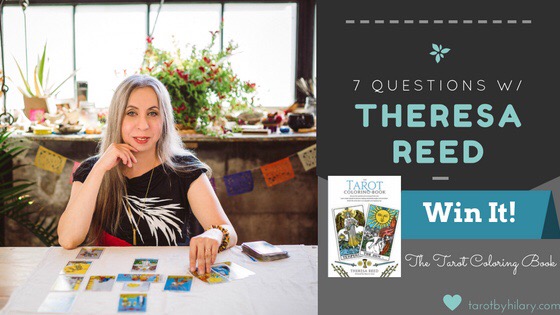 This interview is a part of the "7 Questions" series. I will be posing 7 questions to people within the tarot community; whether they are bloggers, authors, deck creators, or fellow readers (or sometimes, all of the above!).
---
There is so much I could say about Theresa Reed. I owe this woman a TREMENDOUS debt of gratitude when I won her Tarot Apprentice contest in 2011. Tarot by Hilary had existed since October 2005: the day I gave my first ever "for pay" tarot reading. But really? It didn't truly begin until I had Theresa in my corner, inspiring me and pushing me to take risks, go bigger, and genuinely and authentically step into my business.
Today I'm "paying it forward" by offering up THREE free copies of her new book, The Tarot Coloring Book (more about that after the interview). Here's a little more about Theresa, and 7 questions with this tarot dynamo about her work and her new book!
---
Theresa Reed (aka "The Tarot Lady") has been a full-time Tarot card reader for close to 30 years. She is the author of The Tarot Coloring Book (release date: Nov 1, 2016), an illustrated tour through the world of Tarot with coloring sheets for every card in the deck.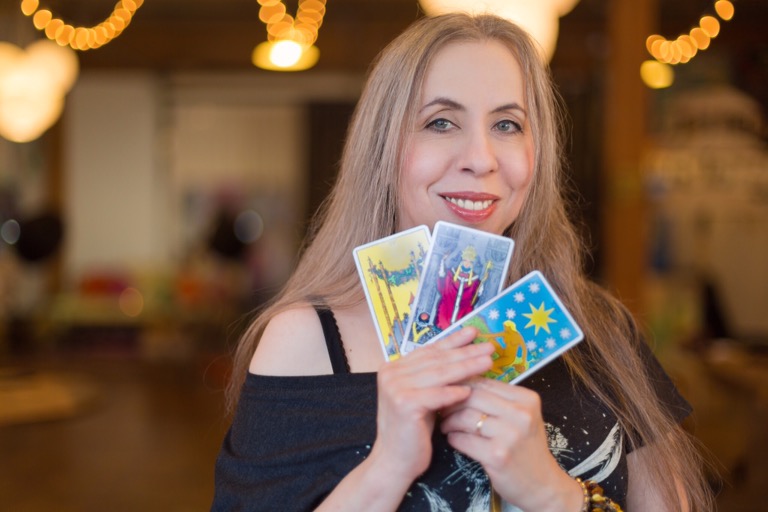 In addition to doing private Tarot readings, teaching Tarot classes, and speaking at Tarot conferences, Theresa also runs a popular website—TheTarotLady.com—where she dishes out advice, inspiration and tips for Tarot lovers of all experience levels. 
Follow Theresa on Twitter and Instagram for her daily "Six Second Tarot Reading"—plus photos of her extremely handsome cats, TaoZen and Monkey.
❓ What inspired you to write The Tarot Coloring Book? Why a coloring book and not a straightforward nonfiction tarot book?