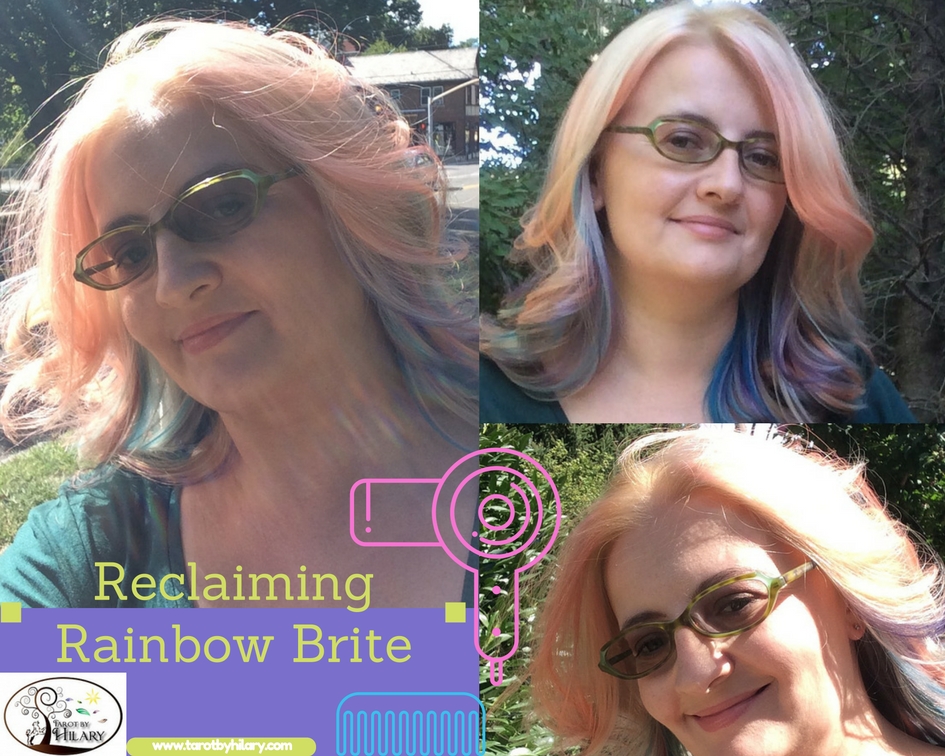 If you're new to Tarot by Hilary, you may not know that I changed my hair drastically in September.
This drastic change is leading me to all kinds of conclusions and revelations, especially surrounding that whole biz of truly trying not to care what other people think of me. Or, at the very least, trying to care more about what I think about me more than others!
The new hair did not escape the notice of my coworkers at my day job. Most people were very enthusiastic about the change… some more enthused about the platinum part of it, some crazy about the rainbow streaks.
But it wasn't until a coworker at the day job called me a nickname that I had when I was in middle school that I realized the venom that I still held onto within that particular name.
I was called Rainbow Brite in middle school. People are starting to call it me again… and this time? I'm completely okay with it. After all, when you have rainbow hair, what ELSE are they going to call you, right?
In middle school, this was not the most fun nickname to have. I hated it. I cried all the time. I was the least popular girl in the entire school while I was in sixth grade. And while teenagers are prone to exaggeration, this time? It really WAS true. I had a really tough time. My parents were divorcing, and at that point in time I knew of absolutely NO ONE whose parents were divorced. I felt awkward and weird in my own skin and body. Weird was different. Different was bad. To be weird was to not fit in, and to not fit in was to be targeted for being weird instead.… Continue Reading