The thing about behind the scenes work is it's behind the scenes. As in, weeks go by without so much a peep on my blog… And y'all loyal readers are left in the dark, wondering what the heck? Why isn't she posting? Has Hilary finally cracked and run off to join the circus for real this time? Is she eating Bon-bons and rolling in a swimming pool full of cash?
Sadly, neither of the above scenarios are true (the circus, the Bon-bons). Just busy busy busy with seeing clients, working on my private magickal practices, meditating, and writing…
…and streamlining my scheduling process so that it becomes more automated and easier to book a reading with me!
Yes, I have bitten that proverbial bullet and found an online scheduler that's right for me, and will prevent the oh so fun "e-mail tag" that has hounded the booking process for me for years.
For now, you can still schedule as you've done in the past: by checking out my purchase page and using the paypal drop-down menus and emailing me with your availability. -OR- you can book me through my scheduling page, found here: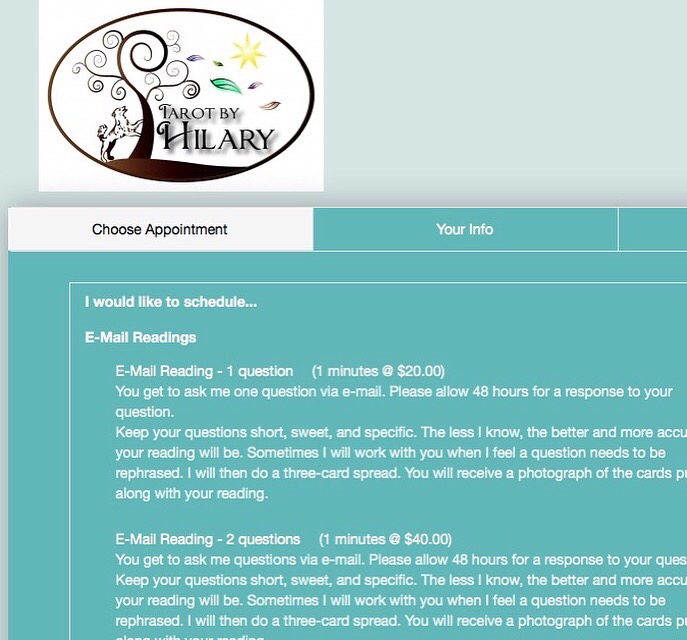 My purchase page will be updated soon to integrate this new way of scheduling, and also be more streamlined and clearer for client use. After all, there's nothing more frustrating than wanting to work with someone, and not knowing HOW!
As always, if you have ANY problems or questions, please feel free to email me at tarrytowntarot@gmail.com -OR- hilary@tarotbyhilary.com.
[Update 8/23/16, 9:45pm: New scheduling/booking system is now integrated into my Purchase page! Go there to schedule! Yay!]
I look forward to serving you!
Blessings,
~*~Hilary~*~
www.tarotbyhilary.com
If you found this article helpful, please share it with your friends using the handy-dandy buttons below.