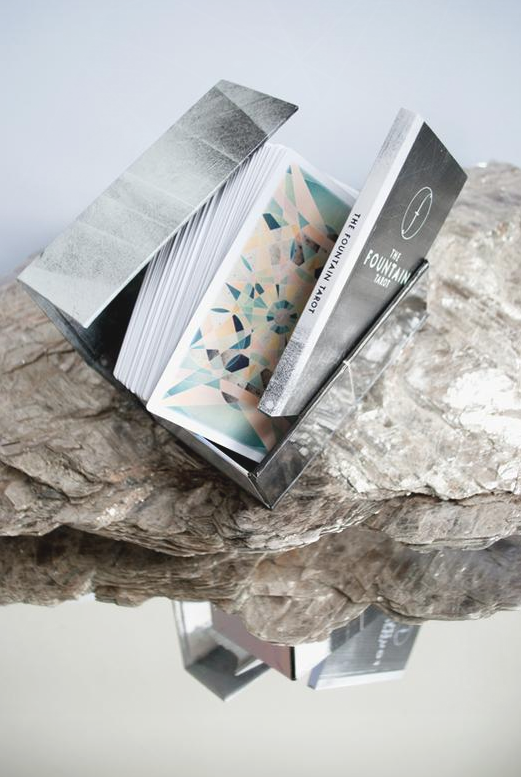 Deck: The Fountain Tarot
Created by: Jonathan Saiz: Artist, Jason Gruhl: Writer, Andi Todaro: Designer
Date of Publication: April/May 2015
Published by: Self-Published
The Fountain Tarot is the deck that seemed to come out of nowhere for me. I'll admit: I have a bit of a problem when it comes to tarot decks. It's no accident or coincidence when Theresa Reed calls me the Keith Richards of tarot decks… I see a new one that I don't have and I have to snort… er… consume it.
When I attended Readers Studio this past April, there was a new booth that caught my eye… that of the Fountain Tarot. "The Fountain Tarot?" I asked someone. "What's that? Is it bad that I've never heard of it before?" Truly, I thought I was on my game about new and upcoming decks. I had my list of decks I was looking out for to purchase, and Fountain Tarot was nowhere on it. This deck hit me out of left field, for sure.
I wandered over to their booth and looked at the art prints they had hung of the images from the deck. I poured over their sample copy. And I asked if I could buy one only to find out they had already sold them all the day before at the Tarot and Psychology conference. My covetous nature went into overdrive. Being put on the waiting list just wouldn't do. My eyes had a gleam of avarice as I said, "you'll sell me the sample deck by the end of the weekend." I was so certain. The creators laughed at me, enjoying my enthusiasm. I wasn't joking.
This interaction preceded a weekend-long stalking of the Fountain Tarot booth. Every so often, I even threw in the "I'm watching you" hand gesture with my fingers flashing back and forth from my eyes to their booth. Fellow conference attendees, sensing my overzealous enthusiasm, even put in good words for me with the booth without me even soliciting them.
Oh yes. I had turned into a tarot stalker. But my crazy nature triumphed, and by Sunday morning they relented and I ended up going home with the writer's own deck. Did I mention I'm nuts? Friendly. But nuts. And thank you to Jonathan, Jason, and Andi for dealing with my particular brand of crazy.
But enough about my tarot cray-cray. Let's really get into the meat of why I love the Fountain Tarot.… Continue Reading