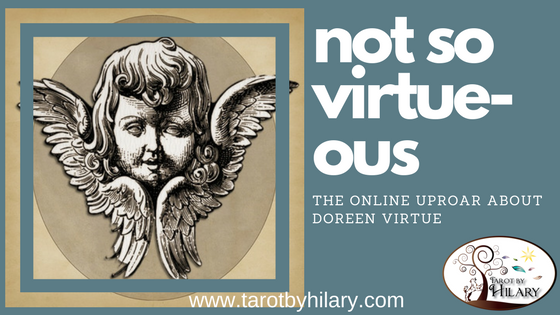 So the big scoop in the tarot world last week is eclipse-related: eclipses are known for shaking things up and sudden about-faces. In true big-ass eclipse fashion, Doreen Virtue, known primarily for her Angel Oracles and tarot decks, very publicly DENOUNCED tarot this week (she also denounced fairies, mermaids, goddesses, etc.).
A little background information: Whenever a card reader says that they are a Certified Angel Card Reader, this is likely to mean that they studied through one of Doreen Virtue's online courses, gaining more advance training in how to read the Angel Cards.
As for me, I'm not an Angel Card reader. I've just never been drawn to those kinds of decks (these are the ones I am drawn to). I'm not saying that I don't believe in angelic energy or symbolism… in fact there have been many times I have seen such symbols and connected with them in my tarot work, namely seeing much Archangel Michael energy in the Swords suit of Ciro Marchetti's Legacy of the Divine tarot deck.
Going on the record here: Doreen Virtue's work has never spoken to me personally. This is not to say that the people that DO follow her work, buy her decks, or study with her online, aren't getting something meaningful or profound: to each their own. But me? Meh. Not a fan.… Continue Reading