The last time I did a top ten, it was at the end of 2012, reminiscing on the blogging year I was leaving behind.
Besides the realization of "gee, I should do that again!" I also learned that doing a top ten list is an excellent way to wrap up the year and go into the new year fresh, clean, and knowing exactly where you came from… so you know where you're going! It was hard to choose my favorite blog posts, but I was able to do it based on site stats, general popularity, and which ones were my personal favorites to write. Without further ado…
Best of Tarot by Hilary 2015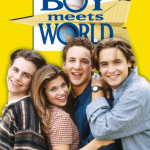 10. Lessons from Boy Meets World and a Return to Regular Programming
Oh, reruns of Boy Meets World, can there EVER be enough of you? Me stumbling across the episode "Quiz Show" on MTV2 during a bout of procrastination yielded this blog post, all about investing time and energy in worthy pursuits (like my tarot business and my blogging) and less time used up by my addiction to Candy Crush.