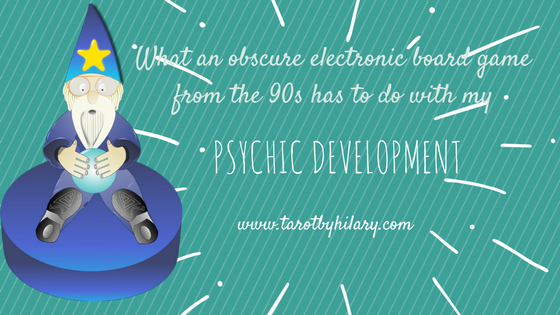 When I was younger, I wanted to be psychic SO BADLY. This was long before I became a professional psychic (through the use of tarot cards). Long, loooong before I even knew about tarot at all.
Not only was I obsessed with all things psychic, crying into my crystals how I was never going to be one of those elite few who seemed to be able to see through it all: people, situations, lies, manipulations, down to the cold or warm or hard truth… I was also obsessed with finding my soulmate. Long before I was truly even ready to date anyone, let alone find "the one."
I don't think I'm unusual in this regard. Many classic late-80s to early-90s board games were MADE for this kind of weird obsession I had, making me think that many pre-teen to teen girls were also similarly fixated on both witchiness and finding a boyfriend.
The one I most remember was Ask Zandar, which had a "crystal ball" in the middle with a wizard in it, and as you moved your pieces around the board, you would ask the crystal ball questions. This crystal ball was a mini-Zoltar of sorts, spewing out audio predictions in a tinny metallic-sounding voice that was a poor facsimile for what a mystical wizard was supposed to sound like. Yet, my newly formed teenage mind held tight to those pre-fabricated "predictions" like the last piece of Halloween candy.
Truly, this was a board game that encompassed the two things I was searching for at that point in my life: love and supernatural powers.… Continue Reading