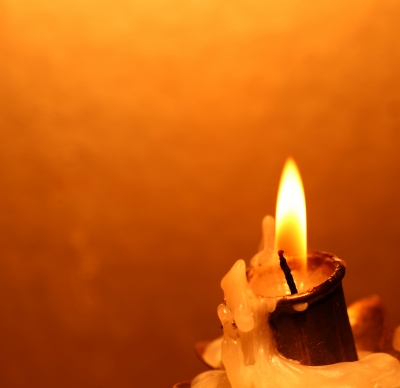 The topic for this first round of the TarotBlogHop is "How I Can Be a Better Candle". For more information about the TarotBlogHop, see Donnaleigh's great explanation at http://www.donnaleigh.com/tarotbloghop.htm.
A Tarot Reader's Flickering Flame
It is not much of a secret anymore to a lot of people that I am a witch. Not in the derogatory sense (though I can be one on occasion, more likely a word rhyming with "witch") but in the spiritual sense. I'm a pagan. Ooga booga.

In late 2010, I found my spiritual family. I had been working with them for a few months before I was officially absorbed into the group, but my very first ritual as a member was Yule. I was so happy, and it was a beautiful ritual. At one point we were all given a small white candle to take home with us, reminding us that the light of one little candle, when lit and passed to others to light their own wicks, can provide enough light for a whole room. In addition, we were given this token to light our souls during the darkness of winter.
When I returned home from ritual, I said specifically for no one to touch that candle. I wanted to be able to light it for short amounts of time during the winter months as the reminder that the light of spring was coming, and that even in darkness, there is still the possibility of illumination. Less than a week later, the little white candle was a nub, but I hadn't lit it once. My mother had been lighting it.
The Yule candle was a BIG DEAL to me, so I got pretty upset. And then I thought about it. And then I calmed down. I had missed the point entirely. Nothing was taken from me when the candle burned down. There was no crime, only the perception that I had been slighted. I still had my own light. I had put the symbol above the concept.
So how does this lead back to tarot, my little chickadees? The concept of the lit flame, of the soul a'fire. And the soul isn't a'fire until it's doing what it's meant to be doing. For so many years, I hid my tarot light under a bushel for many reasons: fear of ridicule, fear of myself, fear that I wouldn't get any messages, fear that I would. Now that I am out in the open about tarot, I have the opportunity to show other people what a wonderful and enriching tool it can be: whether it's in my capacity as a tarot reader giving a reading to a client who has never had their cards read, or to be an example to other readers that feel they have to hide their joy for fear of ridicule. The main thing is, when you are doing what you love, you show others it is possible… it inspires them to do likewise.
So, how can I be a better candle?
lead by example
have courage and confidence
shine my web presence on fellow tarotists
be free with my encouragement of others
fan the flames of cooperation and community
The TarotBlogHop project is just one example of what I will be participating in this year as a commitment to shine my little light… and spark others to make the leap to do what they love… and not wait for the right time to do it. You don't have to wait to have the life you want. Start now.
~*~Hilary~*~
www.tarotbyhilary.com 
Image: Janaka Dharmasena / FreeDigitalPhotos.net
—Keep hoppin'… read all the wonderful posts by my fellow tarot bloggers, and stay tuned for the next round!—